A Guide To Forming Your Maryland Professional Corporation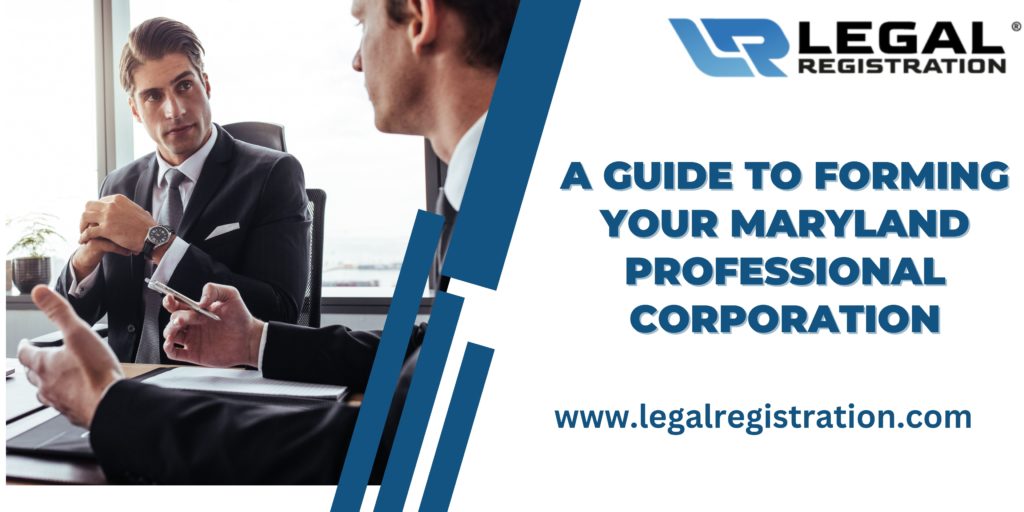 Maryland conversion statute
In Maryland, only the professional services of the corporation are encouraged regardless of the other similarities that a professional corporation has with a normal corporation. The professional corporation offers several benefits including lower taxes, an intensive plan for retirement, and the elimination of undue sues resulting from malpractices. If you are planning to form a Maryland professional corporation, take notes of the following important yet easy steps and requirements you must fulfill for its formation:
Select A Name
Forming a corporation requires you to choose a name for your business. While choosing a name you need to take care of thelegal prohibitions for the name. Therefore, for your Maryland professional corporation name, consider the legal requirements for naming your business. 
Do not include any abbreviations in your business name. Include the legal terms 'incorporated', 'incorporation', and 'co.', etc., in your business name. The names you choose should be neutral and professional, not morally foul. Furthermore, try choosing a name that does not invade the copyrights of any other business or company.
Have Your Agent Registered
For a Maryland professional corporation, there needs to be a person who acts as the point of contact on behalf of the business or the company, known as the registered agent.  Through LegalRegistration.com, you can form an LLC in no time.
The business must get this person registered along with his/her name, address, and other details required by the Maryland conversion statute. Make sure the person you decide to have as your registered agent has the required skills and professional abilities to act as expected. Hire a professional source if possible.
Article Of Incorporation
To register your business with the state of Maryland, articles of Incorporation need to be filed. Filing the article would register you as an incorporation after the issuance of a certificate of incorporation. The details of your registered agent are also there in the article of Incorporation.
Choose Your BOD
The Board of directors is a very essential part of your business governance. If you are the incorporator, you are responsible for listing down the details of your business's board of directors along with their appointments if there are not any pre-decided directors in the business already. Please give LegalRegistration.com a phone call if you need more information.
Here are some reasons why choosing a Board of Directors is essential:
Benefit from Diverse Experiences
As a business owner, you can never be sure that your current skills can help you stay afloat in the ever-evolving business landscape. This is why you need to find people who can help you manage things in the long run. 
The biggest benefit of having a BOD is that it allows you to learn from the experience of other skilled professionals. Having directors from diverse backgrounds can allow you to make proper business decisions at the right time – allowing you to boost the growth of your business in no time.  Get more information Sole Proprietor
Ease of Identifying Corporate Governance 
The most important thing you need to boost the growth of your business is to establish a set of principles that align with your business goals. If you don't have a proper framework in your mind, you won't be able to handle matters the right way. 
The easiest way you can establish an internal framework for managing the business side of things is to establish a board of directors. By having a BOD, you will find it way easier to create a corporate hierarchy. 
Keep in mind that no corporate hierarchy should be rigid, as businesses must develop with changing demands of the industry. Your BOD also helps you keep your hierarchy updated with the latest trends. 
Accountability is the essential thing to focus on if you want to keep your business growing. Having a defined set of rules won't help you at all if nobody sticks to those rules. Having a BOD makes it effortless to follow the hierarchy you define. 
The BOD oversees how the rules are being implemented in the corporation. According to the changing demands, they can identify how and when to introduce new changes that hold everyone accountable.  For additional information What services do we provide? 
Identify Strategic Direction
Having a clear direction is the only way to keep your business going forward. By having a BOD, you make it easier to identify your direction and keep moving toward it. Your strategic direction becomes easier to follow as you establish your BOD. 
Having a BOD allows you to protect the interests of your corporation and your customers. Customers and business partners view the BOD as a "safeguard" that increases the reliability and trustworthiness of your business. 
Set Corporate Laws
While setting up for Maryland professional corporation, set bylaws for your corporation to be to set how your corporation will function. 
The laws include 

Voting rights of shareholders

The number and eligibility criteria for directors, 

The schedule for a board meeting

The roles each member will perform

Mitigation plans in case of disputes. 
Either the incorporator or the directors of the company are authorized to set these laws. Make sure you settle all these things at the time of establishing your corporation. Doing so will ensure that you don't run into legal problems in the long run. For additional information Category
Hire Online Consultants
Corporations as a business seem very complicated. If you are having difficulty carrying out this thorough procedure, do not worry. There are several incorporations to carry out the entire procedure for you just as you desire. Look for online consultants for incorporation services, known to charge less than a business attorney charges for such services.
None
None