A Short Guide on How to Patent a Restaurant Name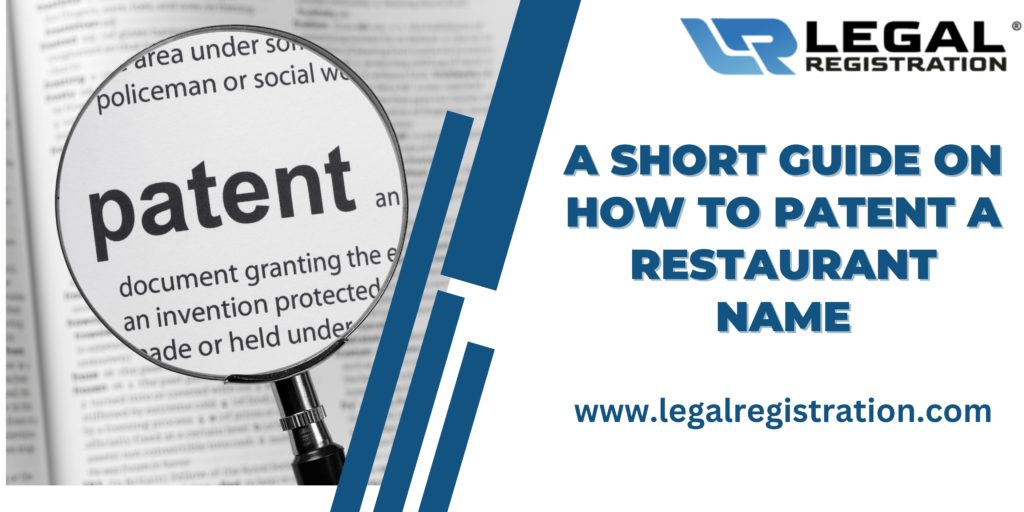 How to patent a restaurant name
Every business needs a name for its recognition. Brand recognition depends much upon the brand's name. Business names create an identity for your brand and help your business stand out in the competition. Like other businesses, restaurants demand equal attention when it comes to naming them. Selecting a good name for your brand is essential because it sets the tone and expectations for your customers regarding your brand. Through LegalRegistration.com, you can form an LLC in no time.
Choosing a fantastic name for your restaurant is more thought-provoking than you might think. Since restaurants have to deal with food and tempting food is what everyone is looking for, hence selecting a tempting name for your restaurant is crucial to driving your customer's hunger. If you have chosen a name and have questions like "how to patent a restaurant name" or "can you trademark a restaurant name," you are at the right place.
Keep reading to find four tips to get your restaurant name patented without getting into legal technicalities. 
Trademark Your Restaurant's Name
Before getting into how to patent your restaurant's name, the first important thing is to know what is meant by trademarking your restaurant's name and how it is helpful.
A trademark basically protects your restaurant's name, logo, slogan, symbol, or design from being used by your competitors. It preserves your individuality and uniqueness and secures your brand name from being used by others. A trademark can improve your customer's awareness regarding your restaurant. Please give LegalRegistration.com a phone call if you need more information.
Having a trademark might not be important for local food vendors, stalls, or street shops, but it is significantly important for food brand chains, or international food chains so that people can relate to it and eat at the original spots. 
Trademarking plays a key importance when a business is considering expanding its brand to multiple locations or franchising. However, single-sited restaurants should also look into trademarking their name if they are situated in a high-density area or if they are frequently visited by out-of-town guests.
Why Is It Important to Trademark Your Restaurant's Name?
Since your brand's logo and name are significantly essential for your business growth, once the business starts growing, the desirability among the masses to copy your specific trademark becomes greater. Trademark court battles, brand imitators, and fights against infringement can make your road to success a bit bumpier because small businesses or food restaurants often try to use the recognized trademarks without legal consultation, and thus they often cause a setback to the developed brands. The trademark application and approval process can be slightly difficult to decipher and navigate. For additional information What services do we provide? 
Below are the steps that allow you to patent your restaurant's name.
1. Search the Market
Food industries, restaurants, and chains are growing like fire in the forest. People love to eat good food and the trend of eating out has gained much fame. There has been an accumulation of restaurant names and brands and thus before selecting a name, you have to search the market in detail. Deep research can help you learn about the trends of the market and how to name your brand. It would also give you an insight into what people like and expect from the restaurants.
 2.
Find a Great Name
Before you decide to get your name patented, the first thing you need to do is to find a great name that suits your business and restaurant type. Keep in mind that you want people to recognize your restaurant by your name. If the name of your restaurant is not attractive or memorable, you won't be able to get more customers. Along with putting a fancy word for your brand, you also have to keep in mind that your selected name should define the niche of your food. You cannot select a pop name for your Chinese food restaurant.
This is why you need to go for a name that resonates with your target audience. It's not difficult topick a restaurant name if you are thinking on your own. This is why you should consider getting naming advice from your family and your loved ones. Getting advice will make it easier for you to decide on a name out of the list of names you want to choose for your restaurant. For additional information Category
3. Check the Existing Factual Database
To learn how to patent a restaurant name, you need to understand how to check the names that are already patented for other restaurants. Doing so will make it easier for you to avoid legal complexities in the future. 
The USPTO keeps track of all the registered and pending patent applications. Before you file the application for getting your name patented, you need to check the existing database of USPTO to get your restaurant name patented. To be on the safer side, it is better not to even select a name that resembles some other already-developed restaurant.
4. File Your Application
The next step in the journey of "how to patent a restaurant name" is to file your application.  People often think that the process of registering a restaurant's name is difficult, but it isn't as tough as one might think.
If you cannot find a name matching yours in the USPTO database, the next step is to file the application to get your business name patented. This application is to be filed to theTrademark Electronic Application System managed by USPTO. 
An important thing to keep in mind about the application you file is that it should contain all the information required by the concerned authorities. Remember that your application will be rejected if you provide any misleading information. Your application will also be rejected if you ask to get a patent for a name that has already been registered. Additional information Business Licensing
5.  Track Your Application 
After learning how to register a restaurant nameand file your information, the last step is to track your application. You will have to go through the trademark examination process. If you have some free time, you can oversee the whole process yourself. 
But it's better to get help from a trademark examiner as it eases the procedure for the restaurant's owner. Only a trademark examiner can understand your specific business needs and ensure that your application is handled the right way. Once your application is accepted, the name of your restaurant will be added to the list USPTO database only if your application for a patent follows all the requirements of the Federal Trademark Statute. Get more information on Legal Registration Archives
The final application will notify you regarding your brand's acceptance and then you can operate your restaurant the way you want without any hassle.
These small steps can help you with better trademark options and you can safely land on the name you have always wanted for your restaurant.
None
None