A Short Guide on Idaho Foreign Corporation Registration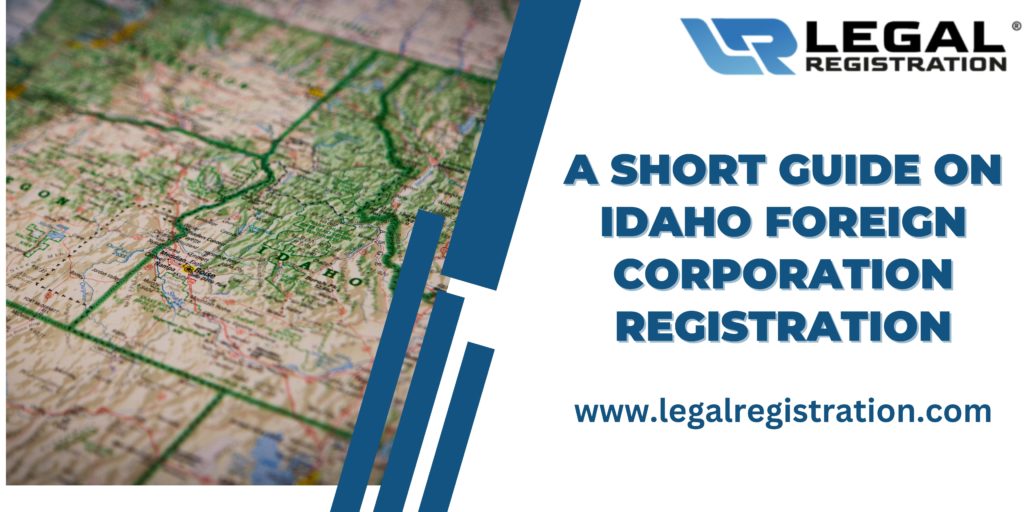 Idaho foreign corporation registration
Idaho, which is commonly known as the "Potato State', is loved for its barrel cheese and quality papers. The state has profoundly evolved in the tech and science sector assisting manufacturers to produce goods at less expensive rates. The state has a lot of big and small businesses working in Idaho separated across various categories. You can start any sort of business you like because it's a business-friendly place. 
The state is generally into creating potatoes, lumber, paper, chemicals, and so on. Popular for its different types of items, Idaho has a gigantic capacity for small businesses as well. Through LegalRegistration.com, you can form an LLC in no time.
Idaho is one of the best states in the US to start a business. The amenities offered by the Idaho government, like low taxes and limited regulation, make it easier for new business owners to have an amazing start on their business journey.  
If you are not a resident of Idaho but want to run a business in it, you are at the right place. So if you are wanting to begin your very own business in Idaho, here are a few legal things you should be aware of. 
Keep reading to find out about Idaho foreign corporation registration. 
1. Establishing Your Business
Before you proceed with Idaho foreign corporation registration, you need to familiarize yourself with Idaho's LLC Act. This act states that you have to register your company to work without getting into legal problems. For any business, it is important to be legally registered before it formally starts its operations. Please give LegalRegistration.com a phone call if you need more information. 
According to this law, you also have to ensure that you have some sort of physical presence in Idaho state. These rules allow the state to collect taxes the right way. In simple words, a physical presence means that you should have a warehouse or a proper office in Idaho. Physically existing in any form in Idaho will make it easier for the authorities to locate you and carry out legal processes. 
However, when it comes to selling products online in Idaho, you might have to go through a difficult legal process. But the general practice is that you should have a physical presence, and you'll be able to run your business. 
2. Following the Legal Limitations
During the Idaho foreign corporation registration, you have to know that certain activities are not allowed in the state. You have to ensure that you don't consider doing these activities. Every state has laws that allow or prohibit certain business activities so regardless of anything you have to make sure following the law is your first and foremost priority. For additional information What services do we provide? 
It's better to read Section 30-21-505 included in the Idaho State Legislature, to find the list of business activities you cannot pursue in Idaho. You must be well aware of this section of the legislature to save yourself from any future problems.  Additional information Business Licensing
3. Getting Your
Foreign Registration Statement
The Idaho foreign corporation registration process also includes the Foreign Registration Statement. This statement has to be filed with the Secretary of State of Idaho. When it comes to Idaho, the Foreign Registration Statement is the same for all types of businesses. It is available online and all you need to do is to download the blank registration form, and you can fill it out with the specific details of your business. Make sure you enter the correct information. 
The information you need to provide is similar to the information you have to provide in other states. With your Foreign Registration Statement, you also have to ensure that you include a Certificate of Existence. This certificate has to be issued by the SOS of the state in which your current business is established. So it is worth mentioning again that you need to have a physical existence and a certificate of proof of it for your business to be recognized and accepted by the law. For additional information Category
4. Understand the Consequences 
When going through the Idaho foreign LLC registration process, you should also know what legal problems you can face if you decide to override the registration guidelines introduced by Idaho state. First of all, research and learn about all the legalities of getting your business registered in a legal and right way. If you can't fully understand the process, involving a lawyer can help you. Not getting the Idaho certificate of authority through a legal process can result in legal action taken by the Idaho attorney general. 
Another thing to note here is that you won't be able to defend yourself in court in case you aren't registered in Idaho in the first place. This is why you have to be extra careful to ensure that your business is registered in Idaho. If you don't have to get your business registered in Idaho, you should consider getting help from an attorney. 
None
None