A Short Guide on Operating Agreement for Trucking Company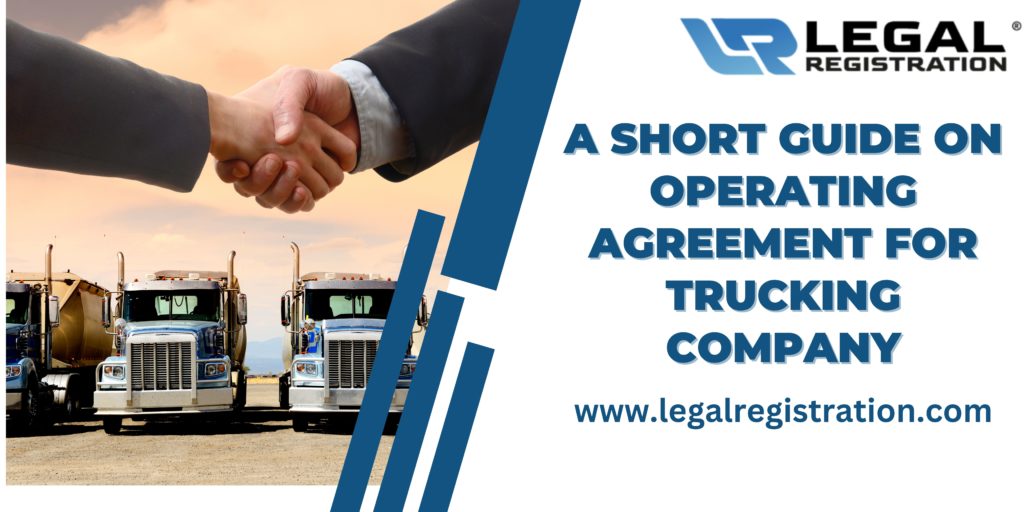 The operating agreement for a trucking company
Trucking is a lucrative industry that has a lot of opportunities for people who want to start their journey of doing business. The delivery and cargo services have never been out of a job and every country needs to have an efficient trucking service to run their errands. On top of providing a lot of jobs for several people and putting business options forward, the trucking industry adds a lot to a country's economy. The trucking industry handles much more cargo than trains, ships, or planes, thus their importance cannot be denied. Through LegalRegistration.com, you can form an LLC in no time.
Anyone can open a trucking service but the process is quite extensive and many formal obligations need to be fulfilled. To register your trucking company, you need to create an operating agreement. Before getting into an operating agreement, here are some initials that you need to have for opening a trucking industry.
5 Steps for Establishing Your Trucking Company
People often think of starting their own business in booming industries and trucking is not the first option that comes to mind immediately. But one drive on an interstate helps to tell people the need to know about the demand for trucking and haulage companies. If you have a niche for starting up a trucking business, here are the initial five steps that you need to cater for. For more information visit the website  LabyrinthTM Fundraising Compliance
1.
Business Plan
For any business startup, the first and initial step is to create a business plan. The business plan is the essential document that allows the company-related people to know and learn about the operating systems of the company and other details regarding the running of the business. A business plan is an elaborate insight into how your business would be.
2.
Register Your Business
Once the business plan has been developed, the next important step is to register your business to make it official. The registration process is a lengthy phase that involves choosing a business entity and naming the business. Please give LegalRegistration.com a phone call if you need more information. 
3.
Business License and Permits
The third step involves obtaining business licenses and permits. This is a legal procedure that has to be catered by every business firm, to ensure and entrust their business with the government authorities. It further involves all the paperwork that has to be done like business insurance, trucking operating agreement, etc.
4.
Choose Your Vehicles
The vehicle market is elaborate and choosing the right vehicles for your company is essential for running a smooth trucking business. Search into the vehicle market, decide how you have to get the vehicles, either buy them on whole payment or lease them. after you have been done with your vehicles, the registration of your vehicles as well as the drivers becomes a vital part of this process. For additional information Category
5.
Startup Funding
Opening a fleet business asks for a huge investment. If you are well-to-do and have saved a good amount for your business then it's good to start your company, but if you are short of funds then to start the business you would also have to look for secure funding. Estimate how much money you need for your company's initial settlement. You can then apply for SBA loans, commercial truck financing, or small-term business loans.  
Operating Agreement for Trucking Company
An Operating Agreement for a Trucking Company or the lease/contract defines the parties involved and the obligations which are to be held by each party. It is a comparatively simple instrument that defines one party to be an authorized carrier and the other as a commercial vehicle for hire. Both are in business to make money and realize a profit; not to cause the other party undue heartache and expense. Additional information Business Licensing
If you don't know a single thing about how to create an operating agreement, you are at the right place. Keep reading to find five tips on how to create an operating agreement for a trucking company without making any mistakes. 
The Regulations from Federal Motor Carrier Safety Administration
The Federal Motor Carrier Safety Administration (FMCSA) and the Department of Transportation (DOT) have formulated the deal for operating agreements and their contents. The specifics are plainly laid out in Title 49 of the Code of Federal Regulations, section 376.12 (49 C.F.R. § 376.12).
The essentials of a contract as a minimum must establish certain specifics including, the following:
Beginning Date

Duration/Term

Exclusive Possession

Escrow Accounts

Final Settlement

Copy of Policies

Termination

Vehicle Identification

Loading/Unloading

Payment within 15 Days

Insurance Obligation

Certificates

Damages

Compensation of Receipt of Logs

Operating Expenses

Oversize/Overweight

Chargeback Items

Nonemployer/Employee

Accounting of Funds

Receipts
Percentage of Ownership
The operating agreement for trucking companies clearly defines what share the members of a partnership are going to have. According to the basics of founding a company, any member of the company can invest whatever amount they want to invest.  Get more information on Legal Registration Archives
The members also have the freedom to decide how much profits different members are going to earn. To ensure that members of your trucking company don't get into problems after the company starts earning profits, it's better for you to include this information in your operating agreement. 
Distribution of Shares
The operating agreement for the trucking company should also define the distributive shares of the company. In legal terms, distributive terms represent theshare of profit and losses different members are going to take when the company operates. 
In most cases, the operating agreement sets the distribution of shares according to the percentage of ownership. But it's totally up to the members of your trucking company to decide how to handle the distribution of shares. 
To ensure that the founding members of your trucking company don't get into problems, you have to identify the distribution of shares in your operating agreement. 
Profits and Losses
The operating agreement for the trucking company should also decide how the profits and losses are going to be distributed among the founding members of your trucking company. As the profits and losses are divided among the members at the end of the year, problems can arise if profits and losses are not distributed the right way. Please contact the LegalRegistration.com team if you have any questions
Your members will also have to pay income tax based on the shares they get. To avoid complications in the future, you should ensure that you represent the profits and losses of your trucking company in your operating agreement. 
Rulings for Voting
The operating agreement for the trucking company should also outline how you are going to hold voting among your members. Defining the trucking operating agreement will explain how members of your company will handle the voting on major decisions. 
For example, it's better to define if the voting power has to be distributed among your members based on the percentage of ownership. 
Ownership Transition Process
As your trucking company grows big, you might have to add or replace members from your company. It's better to ensure that you include the Ownership Transition Process in the operating agreement for the trucking company. 
How to Fill an Operating Agreement for a Trucking Company?
The essentials for an operating agreement can be easily filmed through the LLC Operating Agreement template available online. You can use country Legal Forms to obtain a printable LLC Operating Agreement for a Trucking Company. The online available forms for Operating Agreements include online catalogs and offer cost-effective and accurate templates for consumers and legal professionals, and SMBs to get the registration process done. To learn more check the link below Form an LLC
Conclusion 
Creating the operating agreement for your trucking company requires a lot of effort. You should consider getting help from a lawyer if you want to ensure that your operating agreement doesn't have any loopholes. Doing everything by one's own self could be demanding and if anything goes wrong, all your efforts would go in vain; hence legal documentation needs legal assistance. Once all your paperwork has been done, your trucking company is ready to provide its services and get you the desired profit.
None
None