A Simple Guide for How to Trademark a Name in Louisiana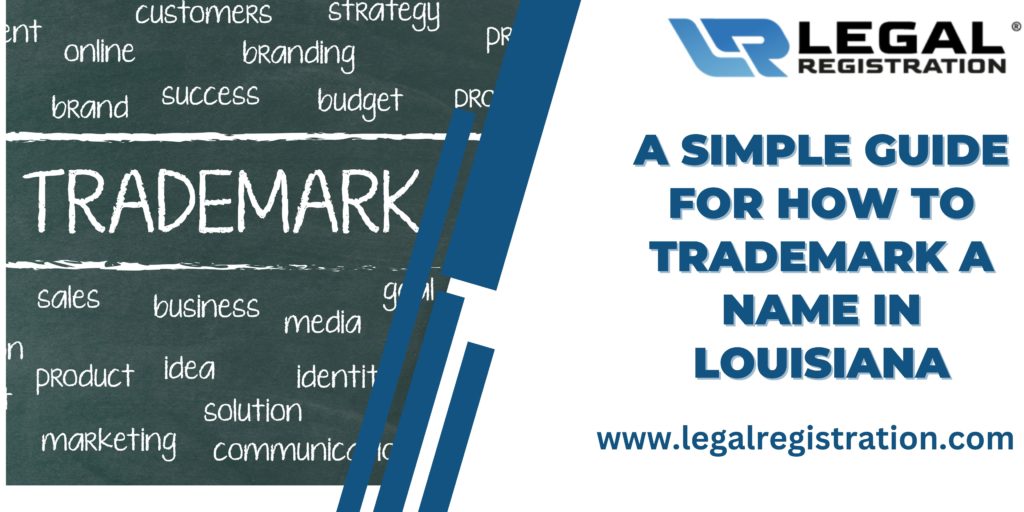 Name reservation Louisiana
Starting a business is an exciting venture to begin. But it comes with a set of responsibilities and the need of making a handful of wise decisions. Entrepreneurship is certainly exciting but it doesn't come easily. Amongst a lot of factors that require consideration, the most crucial one is your business name. 
Every country and its government has legal regulations that must be followed when naming your business. And as there are different types of businesses, the rules might vary accordingly. Thus, having general knowledge in this regard is crucial. Through LegalRegistration.com, you can form an LLC in no time.
If you are wondering how to trademark a name in Louisiana, then you have stopped by the right place. We have covered some of the basics for you that will help you sort out the essentials in trademarking your business name, legally. Without any further ado, let's get into the details. 
Louisiana Trade Name:
A trade name is usually known as DBA too. It is basically a business name but it isn't the "actual" business name. These names are usually used by unincorporated business entities. You must always recheck with your state about the types of businesses that can use the trade names. 
For instance, instead of creating a new name or new LLC for each new location, a corporation would prefer getting a trading name for it. 
As you learn about it, it might seem that a trade name reservation in Louisiana isn't of much importance. Or is it? Let's find out. For more information visit the website  LabyrinthTM Fundraising Compliance.
Are Trade Names Essential in Louisiana? 
Louisiana requires a trading name, regardless of your business niche or type. All entities are required to register one, at the state level. The registration of the trade name is not complicated in itself. It is a rather straightforward procedure. However, it is important to know that it is mandatory and it can take some time too. The process isn't as complicated as it might seem but the documentation and registration can require some time. 
The Louisiana government requires all entities to get their business name and trade name to be on the legal record, in order to function legally. Once you register your business trade name, that business is exclusively, just yours. No one can ever use the same name as yours. This simply means that your business existence is easier to distinguish and would never be overshadowed by another identically named brand. 
Advantages of Registering a Trade Name:
There are various perks of registering a trademark name in Louisiana. As mentioned above, nobody can ever take your business name and identity and it remains unique, just for you. Therefore, it can be quite advantageous for many entrepreneurs and can further help you in starting in the right direction too. 
However, it is important to know here that anyone outside Louisiana can use your name. But as you are running your business, in this specific state, you get a lot of peace, knowing that your business is unique in itself.
For additional information What services do we provide? 
Another huge advantage of trade names is that you get a business bank account in the exact same name within no time. This certainly isn't very important for everyone. But when you understand it from the perspective of accounting, you will see that it helps you streamline the processes really well.
It helps you keep all your business funds in one place, securely. This will segregate your business and personal funds which is a very good habit to develop for your entrepreneurship journey. And most importantly, it gives you peace of mind. You have absolutely no worries about the business name that you have thought of. You can take your time to sort things out and start your brand when you are fully ready. 
Trademarking your name also allows you to get a business account, in your business name. This isn't really mandatory for business owners but it can certainly be helpful, especially if you look at it from an accounting perspective. It is best if you gain a better and more detailed understanding of how this process works and then opt for it. For additional information Category.
Are there any drawbacks to trading your name? 
If you are wondering what the possible drawbacks of trading a name could be, then there is nothing to brood about. There are no disadvantages of this procedure. The only con for some people might be the time that the registration takes. The process can get a bit lengthy. 
If you have a positive business environment, then the incentives for trading your business name can be quite vast. It is certainly not crucial for business growth but it can be extremely helpful in several other ways. 
CONCLUSION:
Trademarking your name in Louisiana is crucial. It helps you keep your business unique, in the competitive market. The process of how trademarking a name in Louisiana is simple and straightforward in itself. But as this concept might be different in comparison to other states; it would seem a bit hard to understand in the beginning. Additional information Business Licensing.
But once it is sorted, you are good to go ahead and trademark your business name in the state. 
None
None