A Step-by-Step Guide to Establish Sole Proprietorship in Louisiana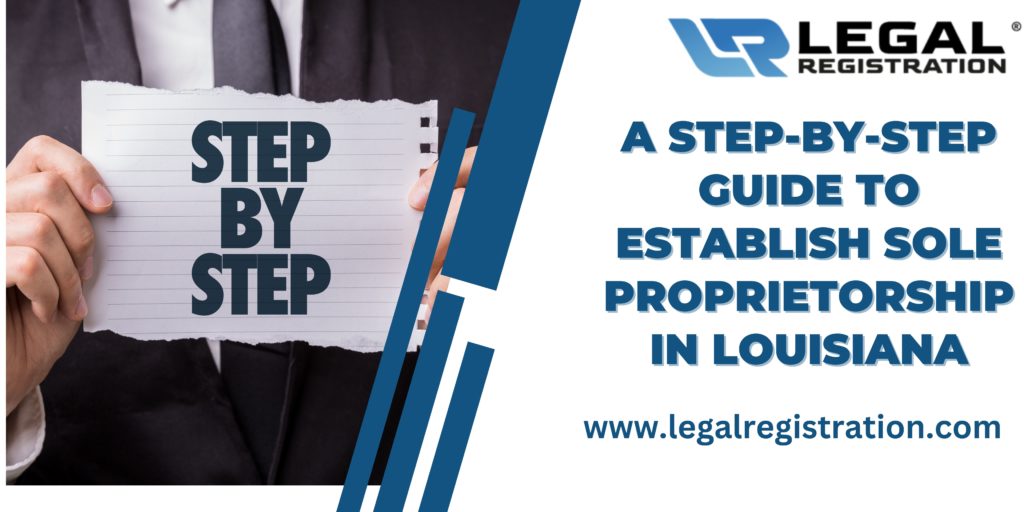 Sole proprietorship Rhode island
A sole proprietorship is a type of business that is run and managed by one person only. That sole person is responsible for making all the important managerial decisions. It is not usually given any legal status as it is the simplest business format one can follow. Through LegalRegistration.com, you can form an LLC in no time.
Why Louisiana?
Louisiana is a state in the US, with its population sitting at 4.624 million as of 2021. This makes it a golden state to cash on all possible business opportunities that this state offers. The state of Louisiana offers several benefits for businesses and corporations alike. 
We have compiled a few mainstream reasons that make this state perfect for any kind of business venture. Without further ado, let's dive into them:
Tax Exemption
Louisiana not only protects your business from double taxation if it is an LLC but will also protect the small businesses that are in the manufacturing niche. The businesses pertaining to this niche also receive an incentive from the state.  For more information visit the website  LabyrinthTM Fundraising Compliance
These businesses get 100% property tax exemptions for the first five years, and that period can also be extended to three more years in this state. This tax incentive has appealed to various businesses in the manufacturing domain to incorporate in Louisiana. The incentive comes under the Louisiana Industrial Tax Exemption Program that is applied to businesses in the industrial niche. 
Small Business Loans
Small businesses often thrive on loans and investments from their investors. Another reason you should choose Louisiana as the home for your business is that it offers several business loans ranging from $5000 to $1.5M for small businesses, including sole proprietorship. 
If you are looking to find your dream investor, this might be your place to start! You can leverage the loan opportunities for the small businesses offered by the Louisiana Economic Development Corporation (LEDC). Please give LegalRegistration.com a phone call if you need more information.
Modern Neighborhood
Louisiana is a modern state with all facilities at a near distance for any business or corporation. The population of the state also offers a huge audience to target through local businesses. The enthralling and captivating architecture of the corporate buildings in this state makes it appealing to many high-value clients and investors around the globe. 
A good and modern neighborhood never fails to add to the positive reputation of a business. This will help in giving a modern touch to your startup business. 
Benefits of Sole Proprietorship
Now that we have discussed why to choose Louisiana as a state to start your small business, it is time to discuss why you should go with sole proprietorship instead of going with other business models. Here are some of the best benefits you will get by registering your business as a sole proprietorship. Let's dive into them: 
You Keep All Profits
When you are registered as the sole owner of a business, you get 100% authority, and you get to keep 100% profits generated by your business. You will not be obliged to pay for the maintenance of your business or for any other category unless you personally wish to spend there. For additional information What services do we provide? 
You will not be bound by a limited salary to spend on your personal needs. Instead, you will be spending on your personal needs from the profits you get from your company. In this way, you will also be able to effortlessly deal with pass-through taxation. 
Low Startup Cost
All entrepreneurs start from a very small scale and eventually pave their way up to increase the size of their business. Small businesses are also short of funds and investments. Hence, the state and business model that offers the lowest startup cost serves their best interest. 
It is the reason that many startup owners choose to go with sole proprietorship when it comes to choosing the right business model as per their needs. You will only need to pay the registration fee, which differs from state to state. In addition to it, you might also need to pay an annual renewal fee to renew your registration after each year. For additional information Category
Your Privacy Remains Intact
As the sole owner of the business, you get to make all the decisions of your business but not at the expense of your privacy. Your private information remains safe in the records, and no one will be able to invade your privacy using the credentials of your company. 
Bear in mind that you might come across situations where you will be exposed to certain liabilities due to your sole proprietorship. It is because this business model does not provide any protection from liabilities. You will have to hire a legal consultant who specializes in corporate affairs to deal with such liabilities. 
Ease of Termination
It is just as smooth and easy to terminate this business as to start it in the first place. Since you are the sole owner, all it will take to terminate the business is your written will to do so. There could be many reasons why to do so. You will need to submit the statement of termination to officially wind up your business. You can also do it if you feel that you have to restart with a different business model in a different state. 
In case of loss in the business or increased debts and low-profit margins, you can choose to terminate your business. Moreover, your business will be automatically terminated if an event occurs that is said to terminate the business, as mentioned in the operating agreement of the business. Make sure you carefully draft your operating agreement.  Additional information Business Licensing
The Process
In Louisiana, if a person holds a sole proprietorship Louisiana, he is personally responsible for all the debts and losses that may occur in the business. He will also receive all the profit that comes from the business. Following is a detailed guide on how to form such a business.
Select a Business Name
The first step towards forming your own business in this domain is going for a business name that best defines your products or services. Some people have a sentimental value attached to the name. Do follow a naming convention that hints not only at your niche but also briefly defines your business motto. It should perfectly blend your brand voice and the niche you serve for. 
For instance, Graphicmama is a business name for a company that sells digital designs. It perfectly defines the niche and the personality of the seller in just two words.
Register Your Trade Name
Now is the time for you to officially register your business name if it is different from your own name. It is crucial to trademark your business name because people can potentially steal you and use your business name for their interest if you fail to trademark it first. It's better to keep your business name confidential before trademarking it to prevent idea theft. Get more information Legal Registration Archives
Get Relevant Licenses
In sole proprietorship Louisiana, you might not need to register your company as an LLC. But, you will be required to complete the documentation specific to your business. This step is highly niche-specific and depends on what kind of business operations you follow that would require an official permit from the government. 
Get an EIN
Employer Identification Number is a nine-digit number that will fit your legal needs to hire employees for your business. You will be required to report the wages of your employees to the IRS to ensure you are not exploiting any rights of your employees. Here's the official website of the IRS that will make things easier for you.
If you are not a resident of the US, you will need your EIN more than anyone else. It is because the people who are not residents of the US do not have an SSN i.e. the Social Security Number of their business, to register in a particular state. Hence, they use their EIN instead to register their business. This way, they are able to register their business legally without an SSN. 
Open a Business Bank Account
Having a business bank account is really important as you will not want to use your personal account for business transactions and professional purposes. If you live in Rhode Island, you will have to have the details of sole proprietorship in Rhode Island to prevent yourself from all potential lawsuits. You can easily open your business bank account using your EIN and relevant business credentials. Please contact the LegalRegistration.com team if you have any questions.
Go With Liability Insurance
You will want to get insurance on your assets because sole proprietorship does not offer you any liability protection. So, it becomes crucial for you to dive into insurance options that will safeguard your personal assets in case a financial crisis occurs. A sole Proprietorship in Louisiana will make you a lot of revenue if approached following the mentioned method. 
Insurance of your liabilities is one of the best ways to secure them, especially when you are in a sole proprietorship that provides no protection against any liabilities, unlike an LLC. 
None
None