Easy Steps to Start a Sole Proprietorship in Michigan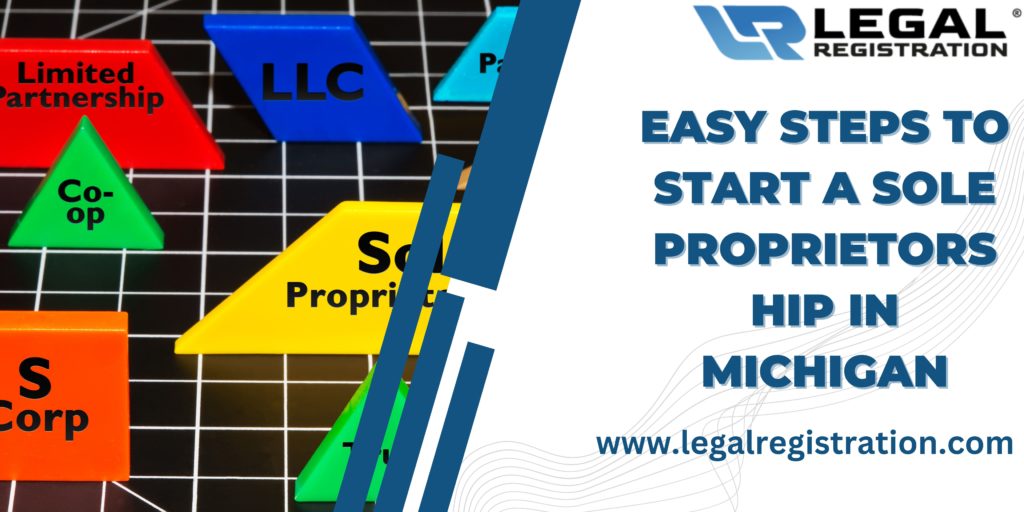 How to start a sole proprietorship in michigan
Michigan sole proprietorship can be a good way to start a proprietorship if you want to run your own business. You're in charge of your own work schedule, you'll have more control over the quality and quantity of your work, and you won't have to worry
about getting fired.  Please give the LegalRegistration.com a phone call if you need more information
However, you will need to do some pre-work in order to get your business going. Below is everything you need to know about starting a sole proprietorship in Michigan. 
1. Naming and Registering Your Business Name
You will need to register your business with the Secretary of State, which is required for sole proprietorships. You'll also have to file an assumed name certificate if you don't want to use your own name. 
You will have to register a DBA (Doing Business As) name for your business. You can use Michigan DBA sole proprietorship to register a business name for your organization. To understand all the rules and laws regarding your business name, you can consult DBA Michigan PDF. 
2. Choose a Business Entity for Your Organization
Choosing between an LLC or incorporation is an important decision, so it's worth understanding the difference. Choosing the right type of business entity will depend on your needs and goals for your business. 
When choosing between an LLC and an incorporation, there are a few things you should consider. Firstly, what type of liability protection do you need? If you have personal assets that could be at risk if something goes wrong with your business, then you may want more protection than just having a sole proprietorship. Through LegalRegistration.com, you can form an LLC in no time.
If this is the case, then incorporating could be best for you. Secondly, do you plan on bringing investors into your business? If so, then incorporating might be the way to go since they would have ownership in the company, which would make them liable if something went wrong with it. 
These approaches will enable you to decide on a business entity for Michigan sole proprietorship.
3. Business Licensing Requirements
The first step is to make sure that you are eligible for the type of business entity you want. If you want to start a sole proprietorship, then you must be an individual and 18 years old or older. 
For other types of businesses, such as corporations or limited liability companies (LLCs), there are different eligibility requirements. Once you have determined what type of business entity you can form in Michigan, then you will need to register your trade name with the county's license office where your principal place of business will be located.  Additional information Business Licensing
You can do this by visiting your local County Clerk's website and filling out the appropriate forms available on their website. 
4. Taxes and Accounting
The good news is that sole proprietorships are easy and inexpensive to set up, there's no need for an accountant or lawyer. The bad news is that you'll be responsible for doing all of your own taxes and accounting. 
Moreover, if you want to dissolve your sole proprietary business, you will have to look for the Michigan certificate of dissolution form and consult a legal authority. 
5. Open a Business Bank Account
Michigan requires you to open an account with a bank that is licensed to do business in the state. You can find out if your bank is licensed by contacting them or visiting at Michigan state website. Once you have opened the account, you will need to complete some further tasks.  
Fill out the necessary forms, which will include information about how often deposits are made (either weekly or monthly) and how often withdrawals are made for employees' salaries and other things. The types of transactions permitted on this account will also be specified.
Once it's established, it is recommended to deposit some amount into the account before beginning operations. You must keep this money separate from any personal funds in your account. If there is less than $1,000 in the account at any time, additional money should not be deposited unless more than 50% of income has been earned.
 5.
Apply for an Employer Identification Number (EIN)
The first thing you need is an Employer Identification Number (EIN), which you can apply for by filling outForm SS-4. You will have to provide the name and address of your business, as well as the names and addresses of any partners or corporate officers.
This number will be used on all business tax forms and will link your personal information and your business entity. Register the company name with the county clerk's office where you plan to conduct business.
The total cost of registering a company name varies by county. Your company name must be distinguishable from other registered names in order to proceed. The form will also ask for your social security number, which you do not need to provide if you are not an individual. To fill out this form, you must submit it either online or via mail.
However, the online medium is better and contains no hassling around. The online application should take no more than 15 minutes and costs $8 per EIN submitted. For additional information Category
 6.
Get Insurance
Getting insurance is a crucial step in starting any business. Without it, you risk losing everything if something goes wrong. You need basic liability insurance, which protects your company from certain risks.
There are many different types of business insurance, so be sure to do your research and find the right one for your situation. Once you have an idea of what type of coverage you'll need, get quotes from different companies to compare rates. And always make sure that your policy covers things like advertising injury or damage claims, including attorney's fees.
 7.
Create Business Plan for the Future
Starting your own business and becoming self-employed is an exciting venture, but it requires careful planning. One of the first steps you should take is deciding on the type of business entity you want to form.
Setting up a sole proprietorship is one of the simplest ways to start your own business since there are fewer requirements compared with other types of businesses. Also, this type of entity can be dissolved quickly if necessary. How To Start Your Own Business
To keep things simple and affordable, consider registering your company as a sole proprietorship. As soon as you have registered, set up your social media profiles, and create marketing materials to promote yourself online. This way, more people will find you, resulting in more business coming your way. Get more information Sole Proprietor
Preparing for the future in advance will also improve the chances of success for your business and will also help you in getting prepared for any challenges that may come your way. How To Start Your Own Business
None
None