Here Is How to Dissolve an LLC in Kentucky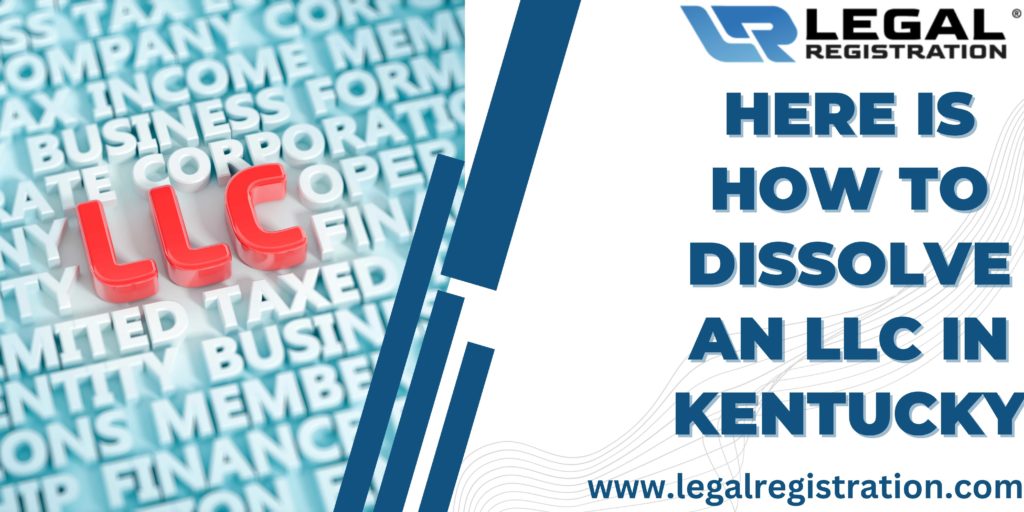 How to dissolve a business in NC
If you have questions in your mind like "should I sell my business and retire," it's better for you to review your personal and business life. Remember, you should only reach a conclusion after you've analyzed the benefits and disadvantages of closing your business. Through LegalRegistration.com, you can form an LLC in no time.
You're at the right place if you've decided to close your company in Kentucky. Here is how to dissolve an LLC in Kentucky without getting into legal problems – keep reading. 
1. Identify the Underlying Reasons 
Waking up someday and deciding to close your company is not going to help you stay profitable as a business owner. If you want to help people around you and bring positive change to your community, you need to understand if closing your company is the only option for you. For additional information Category
Doing so will save you from feeling "regret" in the future and also help you make informed business decisions in the future. 
Here are some reasons that can encourage you to learn how to dissolve a business in NC:
i. Lack of Growth Opportunities
Not all industries can allow you to make a lot of profits in no time. If you are looking that a specific business that cannot help you earn profits, it's better for you to close that business. Making this decision will allow you to focus on other avenues that can be more profitable for you. 
ii. Presence of Overwhelming Competitors
There's no denying that "competitor analysis" can make it easier for you to increase your chances of getting recognition in a target industry. However, no strategy can confirm your success if you are going to deal with competitors who have been in an industry for decades. It's better to close down your business and explore other opportunities instead of trying to get something out of fierce competition. 
iii. Lower Chances of Making Profits
Earning profits is the most important aspect regardless of the industry in which you operate. To ensure that you don't run out of money needed to maintain your business, it's better for you to close your business. Making this difficult decision will make it easier for you to explore other business opportunities in the long run. 
2. Review Your Operating Agreement
The first thing you need to do is to check your operating agreement. When your company is founded and the operating agreement is written, the details of the dissolving of the company are also defined. According to the operating agreement, the LLC members should vote for dissolution. Additional information Business Licensing
Dissolving your company according to the Operating Agreement is easy. All you need to do is to call a meeting with all the members of your LLC. If you get enough votes that say "yes" to dissolution, then you can proceed to the dissolution process. But it's still better for you to get help from a professional if you don't want to get into problems. 
The dissolution process can be different in different areas. For example, if you are operating in the Illinois–Indiana–Kentucky tri-state area, you need to learn how to close a sole proprietorship in Illinois. 
3. Close Your Tax Accounts
The important thing you know about how to dissolve an LLC in Kentucky is to close your tax accounts in different banks. Accounts like these are mostly managed with the help of various government entities. To dissolve LLC Kentucky without breaking any legal guidelines, you should close your accounts the right way. 
One of the essential taxes for LLC companies are:
Unemployment insurance tax

Employee withholding tax

Sales tax 
Paying your taxes and following the guidelines identified by the Kentucky government can take a lot of time and effort. This is why you should consider getting help from a taxation expert if you don't want to run into problems.
4. File Articles of Dissolution
One of the important things related to how to dissolve an LLC in Kentucky is to file articles of dissolution. Once you file all the articles of dissolution the right way, your LLC will cease to exist. You have to file articles of dissolution properly when closing management LLC to avoid problems in the future. Get more information Legal Registration Archives
Here are the ways you can file an article of dissolution:
By email

By online filling

By giving it in person
It's your call to decide what way you will choose to file your article of dissolution. If you are not comfortable with filling it out online, it's better for you to visit the office in person and submit your articles of dissolution. 
The process after you file the articles of dissolution takes around 3-5 days. In case you have not filed the article of submission properly, you will have to do the whole process once again. 
5. Create a Plan for Your Future
The decision to close down your company shouldn't "demotivate" and stop you from exploring other opportunities. 
If you want to keep making profits, you need to analyze the industry and see what it has to offer. Doing this "due diligence" will make it easier for you to achieve your long-term growth goals. Please give LegalRegistration.com a phone call if you need more information. 
Keep in mind that your previous experience of running a business in Kentucky can help you establish new and more successful businesses. One of the most profitable sectors in Kentucky are:
Automotive

Chemicals

Primary Metals

Food & Beverage

Logistics
You can explore any of these sectors with the help of your previous knowledge and the network of professionals you have built. For example, with proper help, you can start an FMCG company and make good profits in Kentucky. 
None
None