LLC Utah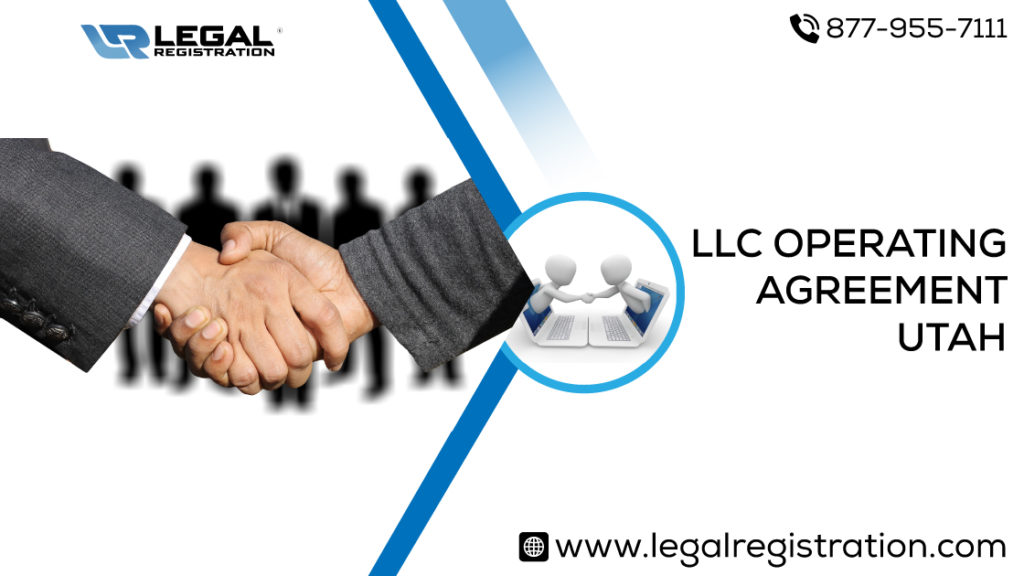 LLC Registration in Utah
Welcome to the LLC Utah division of LegalRegistration.com. Our experts are ready to start your LLC Registration in Utah. You can order standard limited liability company formation here on this web page. Otherwise, please call us to place your Utah LLC order over the phone. We look forward to serving all your business registration needs.
The Basics of Forming a Limited Liability Company in Utah
"LLC" stands for limited liability company. It is a special form of business entity that's very popular in the United States. Every LLC features the tax status and flexibility of a general partnership entity. It combines those traits with limited liability protection. The level of protection rivals the liability protection of a corporation. Or, a limited partnership.
Make no mistake about it. LLCs have a great deal of flexibility when it comes to operational procedures. That is a key reason why LLCs have become so popular in the business world. They protect the legal liability of each business owner. Through our services, we can form your LLC in Utah to your exact needs. All you've got to do is give us a call. We can then customize your entity to fit what you envision for your business.
Main Characteristics of LLCs | LLC Registration in Utah
In most cases, the Utah state government will not enforce an LLC to hold annual meetings. Plus, an LLC will not have to adhere to many corporation-style operating restrictions. Let's use a subchapter S corporation as an example. There are many restrictions related to the type and number of shareholders. But those restrictions do not apply to LLC owners. (Keep in mind that LLC "owners" and "members" are often the same individuals.) LLC members can take part in almost all management operations. Meanwhile, that is not the case for limited partners at a business.
Let's now go over how an LLC is different from a general partnership.
The key difference is that LLC members do not hold much personal liability. That lack of liability applies to the business activities of an LLC. This concept of liability protection is not the case in a general partnership. You can apply this difference between any standard LLC and a limited partnership. An LLC member can protect his or her liability outside of the company. That is not the case with a general partner at a limited partnership business. Every LLC becomes subject to certain rules that do not apply to a general partnership. These include record keeping and disclosure processes that the state of Utah enforces.
Every LLC in Utah functions as an official business entity.
Through the entity, at least one person operates a business for a lawful purpose. Other common entities include corporations and limited partnerships. An LLC can function as a general partner, limited partner, or incorporator. But that's not all. Each LLC can also serve as a corporate manager or a DBA applicant. All Utah LLCs have employees, managers, and members.
More Standard Characteristics of LLCs in Utah | LLC Registration in Utah
The managers and members of an LLC handle all business management duties. Terms of management get defined within every LLC Certificate of Organization. Liability protection can extend to members, managers, and employees. They do not experience personal liability when it comes to company debt. Or, when a business goes through many common operating issues.
Each domestic LLC in Utah must adhere to state statute terms.
An LLC will become official after it files a certificate with the state Division. That certificate refers to the Certificate of Organization. The state division must accept the certificate before an LLC can operate in Utah. A foreign LLC can also conduct business in Utah. But first, the foreign LLC must file an Application for Registration. Every LLC, whether foreign or domestic, has to file an annual report in the state. A Utah LLC always has the right to amend its Certificate or file a Certificate of Dissolution.
Our Organization Can Create an LLC in Utah for You
The LegalRegistration.com team's standing by to get your LLC organized in Utah. First, we'll need to fill out and file your Certificate of Organization. This filing will go to the Utah state government on a direct basis. Plus, our experts can help you get an LLC name registered with the state. Your LLC name has to feature these words: "Limited Liability Company." Or, you can use these terms:  "Limited Company," "L.C.," or "L.L.C." Your Certificate of Organization must include a principal office address. This is the street and mailing address of your limited liability company.
Keep in mind that our company can serve as the registered agent of your Utah LLC.
A registered agent can operate as any individual or business in the state. Your agent will receive service of process documents on behalf of your LLC. This will happen if someone sends your business a summons or lawsuit. The state Division will provide government information to your registered agent. Then, the agent will pass along that information to your business. Your registered agent must have a physical street address within Utah state lines. Plus, your LLC must hire an agent before we can file your Certificate of Organization. Please call our company right now if you want to learn more about forming an LLC. Our experts are standing by to help you set up a new business in Utah.
The History of US Limited Liability Companies
Let's now go over a brief historical review of US limited liability companies. Limited liability company legislation did not take place until 1977 in Wyoming. Then, Florida enacted its own LLC legislation in 1982. But LLCs were not popular in either state until 1988. That's because people felt uncertain about the federal tax treatment of LLCs. In fact, the IRS refused to issue letter rulings for LLCs from 1977 to 1987. This meant each LLC did not know if it could get treated like a corporation for taxes. Or, like a partnership when it came to  federal income tax purposes.
1988 was a crucial year for LLCs in the United States. That's when the IRS announced that it would issue a ruling about tax treatment. The IRS decided that any Wyoming LLC could get treated like a partnership. (In relation to federal tax purposes.) This set a precedent that now leads to all current US LLCs having tax benefits. Today, all Utah LLCs get treated like partnerships because of tax reasons. That is one reason why almost every LLC in Utah must get an EIN from the IRS. An LLC cannot take care of standard IRS tax filing processes until it has an EIN.
Today, the partnership tax treatment of an LLC will benefit any business. Here is how IRS tax treatment of partnership functions. All earnings of a partnership get treated like the earnings of each partner. Thus, no separate tax gets imposed on a partnership entity. Meanwhile, corporation earnings get taxed by the IRS at an entity level. Dividends distributed to all shareholders become taxable per each shareholder. As a result, all distributed earnings that a corporation has to get taxed twice. But the earnings of every partnership only get taxed once. This goes to show why you always hear how LLCs are like partnerships. At every LLC within Utah, its business earnings only get taxed once.
Naming Your Utah LLC | The first step for LLC Registration in Utah
A common first step in the Utah LLC registration process is to name the LLC. But you cannot select any name as your business name. The name has to adhere to specific naming laws and rules in Utah. Plus, you'll want to get a name that your customers can search online for with ease. Here are the official LLC naming guidelines in the state of Utah.
The name of your Utah LLC has to feature this phase: "limited liability company."
Otherwise, you must use one of the next abbreviations. They are: "limited company, L.C., or L.L.C." The state of Utah has a list of restricted words and words that an LLC cannot use. Please let our organization know if you need help accessing the lists of words. In fact, our team can provide a full list of naming rules in Utah. The rules come from the state's Business Name Conventions and Policies guidelines.
Make sure that your proposed limited liability company name has availability in Utah.
You can do this through an entity name search on the Utah.gov website. Speaking of websites, have you already secured a website URL for your business? If not, we recommend that you reserve a website URL right away. As a result, you'll get one step ahead in setting up your new Utah business. Plus, let our organization know if you need help securing your Utah LLC name. We can provide you with our guide about reserving business names in the state.
Get a Utah Registered Agent | LLC Registration in Utah
This crucial limited liability company step is not an option. Every LLC in Utah has to maintain a registered agent at all times. Here is the definition of a registered agent. The agent operates as either an individual or a business entity. An agent will receive all crucial legal documents and tax forms on your behalf. Plus, the registered agent also handles lawsuit notices and government documents. Every agent receives forms and documents and then transfers them to an LLC. This way, the registered agent will operate as the point of contact with the state. Or, with parties that file a lawsuit against your Utah business.
Are you in need of securing a registered agent in Utah?
If so, look no further than LegalRegistration.com. Our corporation is standing by to serve as your official registered agent service. That's right. We have the authority to operate as an agent for all LLCs in the state of Utah. If you need more information about agent services, please let us know. Our LLC experts can send you our full PDF guide about registered agents. Through our agent services, we can keep your LLC in compliance with the state. This way, your Utah business can avoid fines, penalties, and even dissolution.
We Can File Your UT LLC Certificate of Organization
The next step in the Utah LLC formation process is to file a Certificate of Organization. Without this filing, an LLC cannot get registered to conduct business in Utah. Our experts are standing by to draft and file this certificate at any moment. The filing will take place through the Utah Department of Commerce. We can file your business information with the state online or by mail.
Say that you hire our company to file your Utah Certificate of Organization.
We must let the state know if your LLC will get manager-managed. If that's not the case, then your LLC must get member-managed. Do you want to know the difference between member- and manager-managed? If so, we encourage you to browse our website for more LLC information. Or, you can give our corporation a phone call at any time.
Our team can also provide you with a Utah Certificate of Organization guide.
This way, your business will understand more about completing this crucial form. Plus, please let us know if you're already operating an LLC in another state. If that's the case, we can help you set up a Utah foreign LLC. This way, your business can make money within Utah state lines.
Our Experts Can Help You Create the Utah LLC Operating Agreement
Your next step in the Utah LLC registration process is to form an operating agreement. Sure, the state of Utah will not enforce your business to have an operating agreement. But it is in the best interest of almost every LLC in the US to use an agreement. Your operating agreement will serve as a crucial legal document in your business. That's because an agreement outlines all ownership procedures of an LLC. It also states the operating procedures of any Utah liability company.
Our organization understands how important LLC operating agreements are.
That's why we're standing by to draft your Utah LLC agreement today. Through our services, your business can receive a comprehensive agreement. The document will keep all business owners on the same page. This way, you won't have to worry about a future conflict destroying your LLC. Please contact us at any time if you need more information about agreements. We can even send your business a Utah LLC operating agreement guide.
Receive an EIN for Your LLC in Utah
Almost every limited liability company in Utah needs an EIN. This term refers to an official IRS Employer Identification Number. Every EIN operates as a nine-digit number. The Internal Revenue Service (IRS) must use the number to track businesses. This way, it can process tax filings for LLCs and other types of businesses. Your EIN will function as the Social Security number of your Utah business.
Have you heard about getting a Federal Tax Identification Number (FTIN)?
Or, a Federal Employer Identification Number (FEIN)? Well, here's some good news. Both of these terms refer to any standard EIN. So, say that you get an EIN. That means your Utah business has already set up an FTIN and FEIN. Through an EIN, your Utah company can start a business bank account. Then, it will manage and file both state and federal taxes with the IRS. Most Utah businesses even need an EIN to hire their employees. Please contact us now if you need help securing an EIN. We're standing by to get your Utah business registered with the IRS.
Our Team Is Standing By to assist you with your LLC Registration in Utah
When it comes to LLC Registration in Utah, you're never in this alone. Our organization is here to provide you access to our Utah LLC division. This division can help you learn how to get an LLC in Utah with ease. All you've got to do is call our main phone number. Then, one of our Utah LLC specialists can answer questions and find solutions. We know that how to start an LLC in Utah seems complicated. But here's some good news. Our organization provides full-scale liability company formation in any state. Through our services, you could start operating a Utah business in mere days.
If you're starting an LLC in Utah, please browse our website.
It contains access to tools and resources that can position you for success. Your LLC in Utah will also need to secure annual registration. That is something that our own business can provide. We can fill out your documents and send them off to the state each year. This way, you won't have to worry about any compliance issues at your Utah LLC. So, what are you waiting for? It's time to open an LLC Utah right away. You're welcome to order standard LLC registration using this web page. Otherwise, do not hesitate to give us a call. We cannot wait to help you form a new business entity in the great state of Utah.
Get Your New Business Registered in Utah Today
Are you ready to secure an official Utah LLC? If so, our experts know what it takes to create an LLC that can operate for decades. LegalRegistration.com has created small business after business in Utah. And we're standing by to form your business at this moment. When doing so, we can help you set up an official registered agent service. Plus, our team can help your business get an EIN so that it can file taxes. In Utah, a business must complete annual registration every year. In fact, there are many steps that Utah businesses must take to maintain their LLCs. That's why we encourage you to read our website for information. Our website even features an operating agreement template. Through the template, your business can learn how to run its new LLC.
No matter what type of registration your business in Utah needs, we can provide it.
Our organization will go the extra mile to create an LLC that meets your exact needs. Then, we can educate any small business about tax regulations in Utah. While doing so, we can go over the basics of how to use your EIN. Whether your new business in the state is big or small, our company's here to assist. We're the go-to website for getting LLCs registered across the state. Our small business team even provides agent services to LLCs in Utah. Without question, there are no limits to what our company can do for your business.
We Can Position Your Limited Liability Company for Success
Our competitors always become limited in how they can assist their LLC clients. Meanwhile, our business can provide every type of LLC service within the state of Utah. Even if you're needing to get more than one entity registered, that's no problem at all. We can form an LLC, partnership, and corporation at the same time. While doing, our experts will focus on protecting your liability on a 24/7 basis. This way, you won't have to worry so much about the financial decisions of your company.
Point blank: your search for an entity registration service has come to an end.
Our organization can do it all for every client in the state of Utah. From filing a certificate of LLC formation to getting an EIN tax number. There's no limit to the benefits that your Utah business can experience with us. We're standing by to take your limited liability company to the next level. Please give us a call if you have any questions. We cannot wait to assist your new small business in Utah.
Questions About Business Formation in Utah? Contact Us Today
Feel free to contact our company if you have questions about Utah business formation. We're prepared to provide services and solutions that can help you start an LLC. When doing so, our experts will adhere to all Utah State policies, rules, and regulations. Our LLC experts look forward to helping you set up a new business in Utah.
None
None