Maine Secretary of State Corporations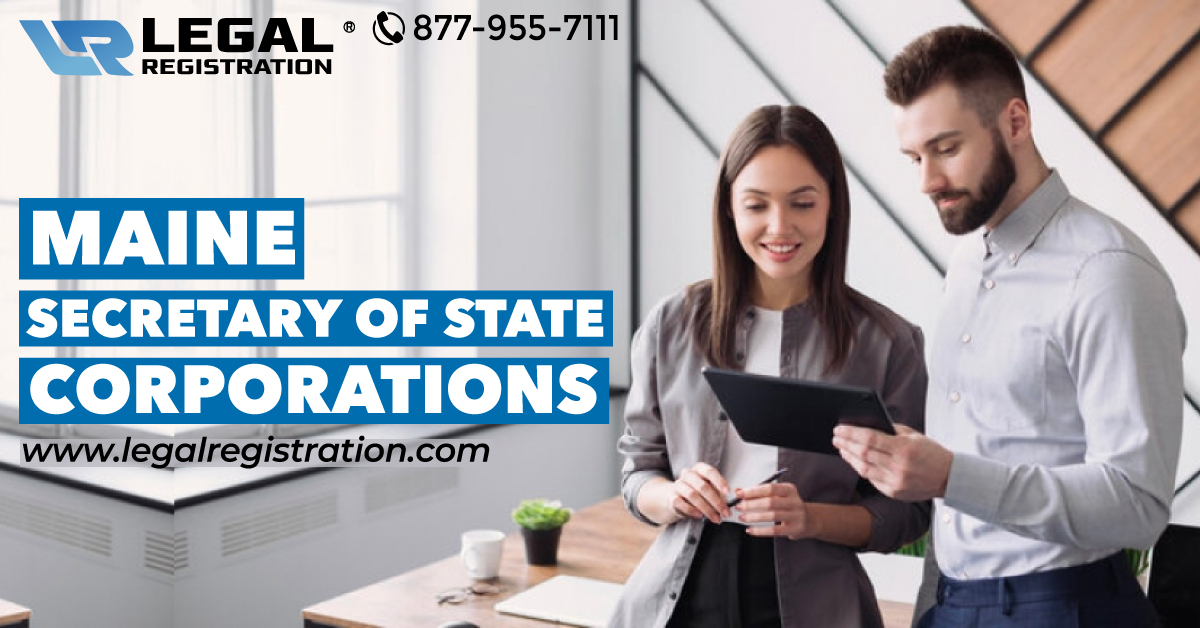 MAINE FOREIGN LLC REGISTRATION
Maine Secretary of State Corporations
Our organization specializes in services establishing Maine secretary of state corporations. We can provide registration for all sorts of business entities. Plus, our experts can also register nonprofit corporations and marks. The LegalRegistration.com team is standing by now. Please call them for any help related to the Maine Division of Corporations. That first-rate help also applies to the Maine UCC and Commissions. Through our services, you can gain a repository for your nonprofit/business records.
No matter what type of entity you need to register, our team can get it done.
From business corporations to limited partnerships or non-profit corporations. We can also help you form/maintain limited liability partnerships/limited liability companies. Say that you need help with marks, cooperatives, or general partnerships. Our legal experts are standing by to assist you right now. We can also help you secure a repository. The repository will apply to all filed liens related to personal property. This key action takes place per the state of Maine Uniform Commercial Code.
Our Maine State Corporation Services Go the Extra Mile
When it comes to state of Maine corporation services, you can count on us. We're ready to administer any sort of entity renewal or appointment. Plus, we can assist you with Maine Notaries Public registration. Our team's benefitted corporation after corporation in the state of Maine. We're prepared to administer any sort of corporation application process. Or, any other application process related to an office in Maine. We can help you maintain and record every sort of corporation appointment.
Our experts also specialize in providing information to commissions and boards.
Say that you have a process request for authentications or apostles. We're standing by to assist and communicate with the Maine secretary of state. This way, your business can receive all relevant certifications in the entire state. Please call us right now for more secretary of state registration information. We also encourage you to email our organization with questions.
We Take Care of Bureau of Corporations, Elections and Commissions Filings
Confused about registering with the Bureau of Corporations, Elections and Commissions? If so, you're not alone. Our team has helped thousands of Maine clients get registered in the state. So, what is the Bureau in Maine? It handles filings for both corporations and all sorts of elections.
When it comes to state elections, the state Bureau handles the conduct of them.
Plus, almost all corporation filings go through the Bureau. Even UCC (Uniform Commercial Code) takes place through the state Bureau. Our organization knows how confusing state agency rule-making can seem. That's why we're standing by to handle your corporation filings. Corporation after corporation in Maine has benefitted through our services.
How To Lookup Business Entities in Maine
Here is a common question that our organization receives from clients. "How do I lookup business entities in the state of Maine?" Here is how to do it. The first step is to go to the Maine Secretary of State website. This is where you can look up any sort of business entity in Maine. From a limited partnership to an LLC or corporation. Refine the search in the secretary of state database so fewer than 100 records show up. You can access a business name as a Charter Number or standard Name. Select your entity keywords and go to the Results page on the secretary of state website.The next step is to select your entity.
The secretary of state database provides a preview of matching entities.
You can view the name and type of each entity through an Information Summary. Next, go to the Information Page on the secretary of state website. That is where you can view crucial details about any corporation in Maine. This includes the corporation legal name and corporation filing type. You can also see the corporation charter number and corporation status. Even the corporation formation date and corporation filing date exist on this page. Plus, the page also features the name and address of each registered agent. There is also a previous filing tab related to filings corporations have completed.
We're Standing By To Help You Form a New Corporation
Our experts are here to help you form your new corporation in Maine today. We can walk you through every step for forming corporations. Say that you're sure about finding a business name. Our team can help you search for any business name in Maine. No matter your entity type, we can provide registration solutions. In fact, we can register any entity through the secretary of state in Maine. From an LLC to a C-Corp to an S-Corp.
We also provide registration services for any partnership or nonprofit organization.
Say that you need help securing an IRS EIN Number. Our experts can also help you get one right now to start doing business in Maine. We can even help you draft articles of incorporation for your business. As you can see, there's no limit to what our services can do.
Questions About State Corporate Filings in Maine? Contact Us Now
Our services extend to all secretary of state Maine corporations and businesses. When it comes to Maine corporate filing, you can depend on LegalRegistration.com. Maine secretary of state corporations have used our services for many years. They know we're #1 in secretary of state ME registration. Please give us a call right now if you have any questions about filing as a corporation. Our team will work one-on-one with the state secretary to provide fast solutions. We look forward to helping you and your Maine business succeed.