Registered Agent And EIN: Why Do You Need Them For Your LLC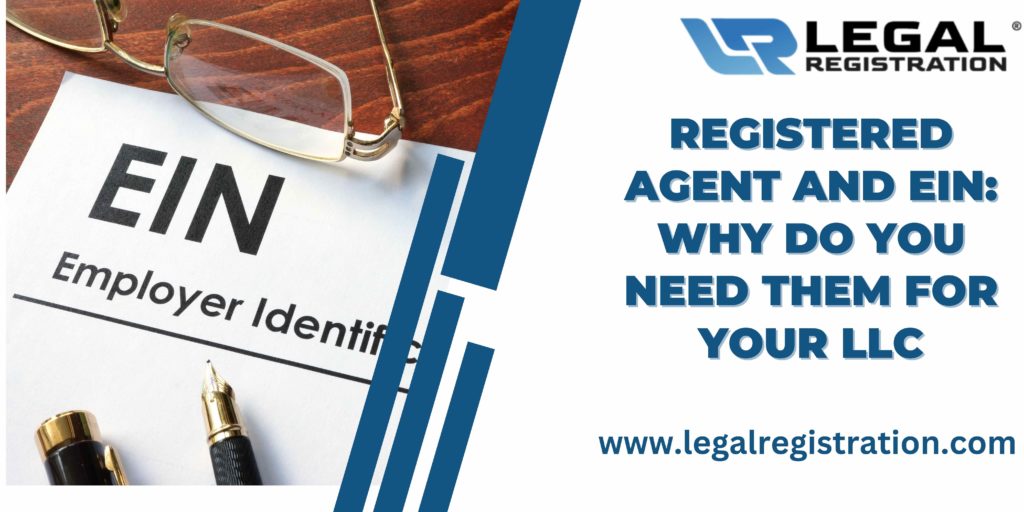 Resignation of a registered agent in texas
Simply put, forming your LLC is the first step towards giving an official look to your business. But there are other registration requirements for your business that you might not be aware of. Well, being a business owner is very hard. 
You have to manage everything from hitting the right idea to managing the budget and, later on, promoting the product. And when growing your products and services with time, the legal requirements are often forgotten. Through LegalRegistration.com, you can form an LLC in no time.
So if you have been searching for an LLC for your business, you must have heard of the words "EIN/Federal Tax" or a "Registered Agent." This article will discuss both and explain why you need them right away. 
What is a Registered Agent?
In simple terms, a registered agent is an entity or a person who will take care of the legal documents on your behalf. They will receive the documents on your behalf, too, such as regulatory and tax notices. A registered agent's name and number are publicly available to everyone. Most states require you to have a statutory or a registered agent to receive the legal documents on behalf of your business. For more information visit the website  LabyrinthTM Fundraising Compliance
While you can technically be your agent too, there are cons to it, such as:
Your personal information will be available to the public

Increased in unsolicited junk mail

If you fail to underline important deadlines, you will risk penalties too. This might result in the cancellation of your business application

If you are sued, you will be informed about this in front of your family and neighbors
Most business owners rely on a third-party agent to protect their secrecy. This one registered has an important job, which is to receive the documents on their behalf. The virtual address for ein is to be provided to the business owner to keep track of everything. More than searching for can I use a registered agent address for EIN, it's best if you leave this work for the professional. Please give LegalRegistration.com a phone call if you need more information.
When To Use a Registered Agent Service?
Most small business owners will work as their registered agents. While this will help save money, it isn't always recommended. Using this service has various benefits, such as:
If you are a registered agent, you're risking the embarrassment of being sued in front of the people you know. Plus, when your information is in the public record, this will be a huge privacy concern.  For additional information What services do we provide? 
Registered agent service is an experienced professional who is accurate in their work. Thus your essential documents will be handled more responsibly by a professional rather than doing it yourself. 
One of the crucial aspects of an agent's job is to ensure the official information is up to date. And if you are listed as an individual, you will have to be keen in updating your information. You will have to make changes to the address too. This will be a little frustrating in the beginning, but you will eventually get used to it. For additional information Category
Tips for Choosing a Registered Agent:
There is a sum of different responsibilities that have to be attended to by a registered agent. They are not merely restricted to accepting lawsuits only. From getting your documents in the right condition, in your hand, to understanding court procedures; a registered agent has a huge role to play. 
Therefore, it is extremely crucial to invest in a reputable, experienced, and professional registered agent for yourself. The track record of the agent matters a lot and this is why researching and finding the best man for the job is vital. 
always look for a local agent. This makes them easily accessible. And as management of lawsuits is not an easy job; a local registered agent will always be in touch with you. Conduct research and take your time to look for the best possible options. You can also ask people around you, in your social network. Take your time and invest effort in looking for the best options and streamline the choices. Additional information Business Licensing
In the array of options you have, experience counts a lot. always look for registered agent companies at the outset, the task of an agent might look simple and easy. but it isn't. They are in charge of handling innumerable documents and legal procedures. When an agent is not experienced, he can easily mess things up for you. 
Therefore, it is extremely important for you to look for an experienced agent who is well aware of how to handle documents. Legal documents are not easy to manage and process. Therefore, considering experience is very crucial and you must do so. Get more information on
When you are running a business, you definitely want someone to take care of things professionally for you. Business owners always have a lot to do and if you want to succeed in life, you need to accept that you cannot do everything on your own. 
a registered agent must be a value-added benefit for you and not another source of stress. Just like electronic emails and email notifications or alerts can be a stress-buster for you; hiring an agent should be a huge benefit for your business procedures. 
Customer service defines the complete experience. if the agent is not communicative, professional, or comfortable; you might find it hard to manage your procedures. When you are on the hunt for selecting a registered agent, you want to make sure that you are looking for a professional one. 
This is why an in-person meeting is extremely important. You must meet the agents personally to determine their attitude and decide whether they would be the right choice for you or not. Evaluate their professionalism. Are they interested in really helping you out or are they emphasizing selling their services only? Evaluating professionalism is critical and you need to certify that you are hiring someone who is well-versed in what they are offering. Please contact the LegalRegistration.com team if you have any questions.
Although any company would state that they are extremely reputable and they are the best bet for you. but what never lies is word of mouth. Look for reviews. Visit the website of the agent you intend to hire and read thoroughly through the reviews. this is your right and you need to do your research
You can also get in touch with the customers and further investigate the agent's services. How did they work with them? Were they helpful? did they provide them with the outcome that was required or not? there is a lot that you can evaluate through word of mouth and you should. 
Once you are sorted about the agent you wish to hire, discuss all the details with them, especially the prices. Go back to your first step, i.e. research, and make sure that you look for a rough estimate of costs during the initial phase. What would you expect an agent to demand from you? Are there any hidden costs or policies? Consider everything before you make a final decision. To learn more check the link below Form an LLC.
THE BOTTOM LINE:
Almost every business owner, at one point or the other, requires a registered agent. Management of legal documents and procedures is not easy. It is a complicated method and requires a lot of knowledge and insight of the court and legal systems. Therefore, understanding what you would need as an agent and how they can be helpful for you in your business is important. 
And once you acknowledge their cruciality, it is vital that you find the right one for your business. Take your time to research and look for the best possible options. It might require some time but in the long run, it will be extremely helpful for you. Make sure you hire an experienced, reputable, and professional registered agent only.
None
None