Registered Agent vs Virtual Address – Understanding the Difference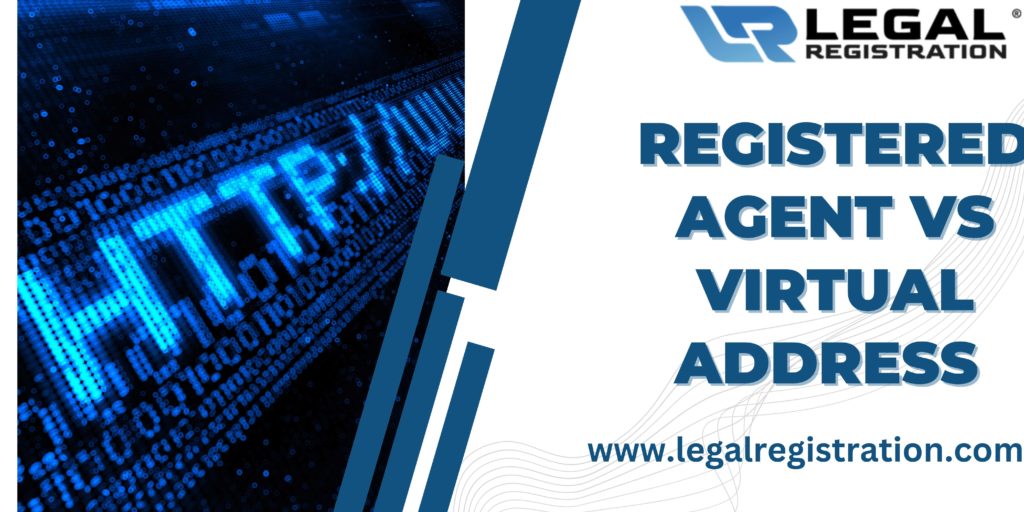 Registered agent vs virtual address
As a newbie entrepreneur, if you are operating your business from the comfort of your home, it can get a bit confusing when choosing between a registered agent and a virtual address.
Understandably, you need an address to put on your website, present tax forms (that are then submitted to the IRS), and give them to your clients. Through LegalRegistration.com, you can form an LLC in no time.
As you are working from home, the base of your business is obviously your home – but, of course, you wouldn't want to give away your private information to all types of entities out there. The best solution would be to opt for a virtual address or a registered agent's address.
What is a Registered Agent?
Now, there are potential risks of being a registered agent – but before we get into them, you might want to know about the importance of designating a registered agent. The registered agent ensures that your state has a reliable source of contact. The registered agent will serve as an official representative of your business.
Potential Risks of Registered Agents
A few business owners consider becoming the registered agent of their company themselves – but there are a few risks involved.
The primary risk of becoming a registered agent for your company is that you will have to be available at all times. In other words, you will need to be present at your business address/ place during business hours every working day.
The underlying reason is that you will have to be available to receive state documents and other important deliveries. And in many cases, such deliveries aren't made when the registered agent isn't there. Please give the LegalRegistration.com a phone call if you need more information.
If you happen to be absent on some days, there is a great chance of missing services and important state deliveries. Another potential downside of having/ becoming a registered agent is that you can only conduct business in your home state.
Also, you cannot expand your business to another state because you cannot be in two places at once. It is important to mention here that a registered agent's address becomes a matter of public record. And, if you are running your business from your home, then you will be required to enter your personal address and make it public, which is obviously a crucial privacy issue.  For more information visit the website  LabyrinthTM Fundraising Compliance
Even worse, if you ever go through the process of having a lawsuit filed against your business, you risk getting served in front of your customers and employees.
Why would a Business Need a Registered Agent?
It doesn't matter whether you are starting a new business or reviving an old business – you will have to ensure that you are setting yourself up for success.
Many newbie entrepreneurs are starting virtual and online businesses or e-commerce businesses – newbie entrepreneurs need to do things in such a way that projects a professional appearance – even if they don't have a brick-and-mortar business setup.
This aspect takes us to an important aspect, also known as the registered agent.
 This aspect is also something that is quite overlooked in the corporate filing process and an incorporation process – mainly the role of the registered agent.
So, suppose you want to be taken seriously as an entrepreneur. In that case, you will want to make all the right decisions and prudent and sound decisions in order for you to present your business more professionally and lay a good legal foundation for your business.  For more information visit the website  LabyrinthTM Fundraising Compliance
Registered Agent – An Overview
A registered agent is someone designated to receive notices from your secretary of state's other compliance-related documents and correspondents and, most importantly, service of process for any potential lawsuits connected to your business.
Simply put, your registered agent will receive all the legal notices for you and ensure that you receive them timely.
Keep in mind that a registered agent needs to be in the same state that your business is in, and it can be either a business or a person. And for this reason, many people list themselves as their registered agent when they form a company or do their annual filing.
Many potential entrepreneurs think that they can be their own registered agents – but – this isn't always the best decision for everyone. Please give LegalRegistration.com a phone call if you need more information.
There are a few potential reasons why being your own registered agent might not be the best decision, and you may want to consider having someone take over those responsibilities on your back.
Trust us when we tell you there are potential risks linked with being one's registered agent – especially if you have a virtual operation or you are a small business just starting out.
Potential Reasons for Not Being One's Own Registered Agent
 Here are some risks of being one's own registered agent.
1. Revealing One's Physical Location
One of the requirements for you to be a registered agent for someone in a particular state – including your own business – is that you have to have a physical location where legal notices and correspondents can be delivered.
The deliveries can occur either by the courier or a process server – so – you will want to be able to list a physical address where those people can access you and give you your notices. PO boxes are simply not going to work and are not acceptable as a registered agent's address. Get more information Sole Proprietor
At this point, you might be thinking that you are all good with using your home address. Now, this might be totally okay, and you could go ahead with this – but only if you want everyone on the internet to know where you live.
 2.
Concern for Privacy & Protection
Another potential risk of being one's own registered agent is privacy and protection concerns. Understandably, one has to be very conscious about the things they put out on the internet – even when it is something related to your business.
These corporate filings, State filings, and even federal filings – a lot of times, these are public records, and they are searchable by anyone that has access to the internet.
So, think about it – if you are acting as your registered agent and putting down your home address, you better be sure that you have been 100% comfortable with the information on the internet. You might want to think twice about this particular aspect of becoming your own registered agent.
So, out of all the potential risks associated with acting as one's own registered agent – this is probably the most important risk out there.
There are a lot of criminals out there who don't necessarily have your best intentions at heart, and you will want to avoid giving them any breadcrumbs that would lead to your home.
That said, if you can add just an extra layer of protection between yourself and your personal information – even if it costs you a little bit more than it normally would, as things are never for free – but for that additional layer of protection and peace of mind, it is absolutely worth it.
And out of all the potential reasons one shouldn't be one's own registered agent, privacy and protection concerns are definitely the most important. For additional information What services do we provide? 
You get the point – as an entrepreneur – you have to be conscious about your privacy and the protection of your home and the people that live with you. So, if you can do what you can to minimize your personal exposure, you should go ahead and do it.
It is better to be safe than sorry.
 3.
Risk of Working Hours
Another potential reason why you shouldn't be your registered agent is linked to the fact that your business might have non-standard work hours.
Here is the thing – registered agents are required to be available at their physical addresses between normal hours of business. We are referring to the typical 9:00 to 5:00 or 10:00 to 6:00 – somewhere in the range of standard business hours.
As a newbie entrepreneur, you will have to prepare your mind that your business hours are more or less going to be all over the place.
Sometimes – even if you have a physical location, and it is just you – you are so busy running around that you cannot even guarantee that you are going to be there between the standard business hours.  Check out article Hit & Run 
This might be reason enough for many virtual business entrepreneurs not to want to serve as their own registered agents.
 4.
Loads of Paperwork
If you sign up to be your registered agent, you will have to remember that you will be dealing with loads of paperwork.
A lot of things come into your business mail, a lot of things come into your email, and a lot of things come to you in person as a business owner. And on top of that – you will be getting legal notices and other documents that are coming from government bodies and state regulators.
A lot of times, all this paperwork can be overwhelming to stay on top of it. If you want to be on top of all the paperwork, you have to implement intake systems for any kind of mail or correspondence coming into your office.
This way, you can make sure that the things that need to be responded to timely are being responded to.
Furthermore, some entrepreneurs are simply not good enough or that efficient with paperwork. Also, many potential entrepreneurs have wonderful business ideas but are not good with the business side of it – they aren't good with the paperwork.
That said, it is important as a business owner to understand where your strong suits are.
So, if dealing with paperwork, notices, and with government correspondence is not your strength, and it is something that overwhelms you – then you might want to just outsource that and hire someone else who can handle it for you and make it a little bit easier for you to digest.
This way, you can focus on the things that you really like and enjoy with your business versus getting bogged down in paper.
It is important to mention here that none of this applies to every business in every situation. If you have a business, and it is a brick-and-mortar operation, and you have a physical address that is not your home address, and you or your employee is there between the standard working hours – then you are in a great position to be your own registered agent.
It probably won't be that difficult for you to be your own registered agent.
So, in an instance like that – you are encouraged to go ahead and designate yourself as your registered agent – or someone in your office – and handle it yourself. But if you feel pressure and don't have a standard working house, you might want to consider hiring somebody to be your registered agent instead of you. For additional information Category
The Potential Benefits of Using a Virtual Mailbox
Now that you are familiar with the potential risk of becoming a registered agent, let us see why most people opt for a virtual address when it comes to choosing between registered agents vs. virtual addresses.
With a virtual mailbox, you have a permanent commercial business address, and you can view your mail online whenever and from wherever you want. You can use the virtual address on your business website and also for filing taxes.
You can also use the virtual address while filing your LLC with the state and for opening a bank/ merchant account.
Your virtual mailbox is your fully managed mail service for remotely handling your mail from anywhere in the world.
Just think about it – using a business address can give you a professional image immediately. You have the luxury of communicating with vendors and customers securely. You won't have to worry about anyone showing up to your house uninvited. Additional information Business Licensing
As mentioned before – you wouldn't want your home address to be accessible to the general public. With a virtual mailbox, you won't have to worry about changing addresses once your business outgrows your house.
Just think about it – changing addresses can be quite confusing for customers and suggest instability in your company. You can miss crucial correspondence and mail if you use your home address and move. Besides, you will have to update your address on invoices, banks, and any other business documents.
You can use the business addresses to register an LLC or corporation, and all couriers are delivered to a business address. Whereas. A PO Box can only receive items from American USPS.
So, virtual post mail sounds like a strong start to your business. 
None
None