Seamless Process of Utah foreign LLC Registration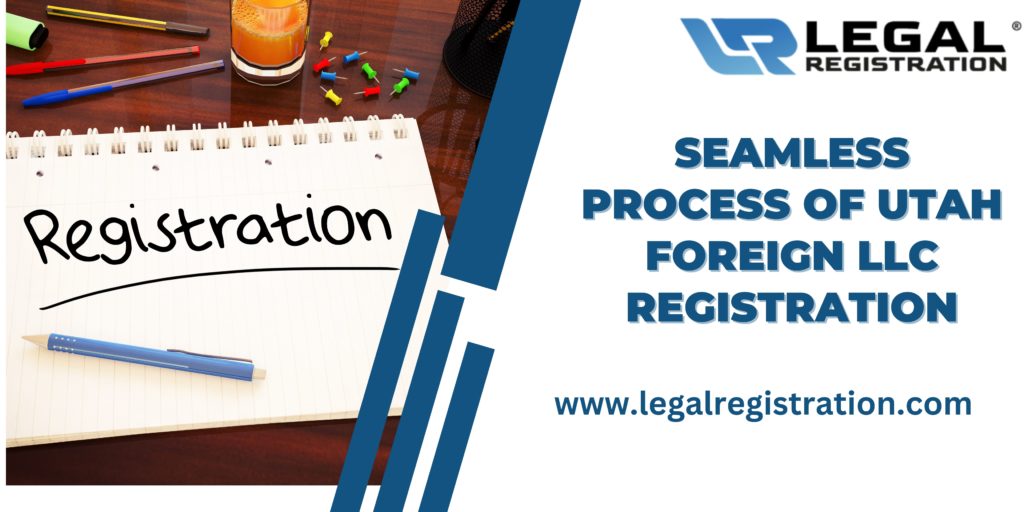 Utah foreign corporation registration
If you are a business owner who already has an LLC business in another state and wants to open a business in Utah, you will have to register as a foreign LLC. By the name of it, you might be confusing a foreign LLC with a company from another country, but this is not the case.  Through LegalRegistration.com, you can form an LLC in no time. 
A foreign LLC can be a company formed under the laws of another state. To start and establish a foreign LLC in Utah, you will have to register it with the Utah secretary of state. Below is the process of how you can start a foreign LLC in Utah. 
1. Choose a Name for Utah Foreign LLC
Utah business name reservation is the first step in registering and starting your foreign LLC in Utah. You can do this by obtaining a name reservation certificate and submitting it to the Utah Secretary of State. However, before this process, you will have to select a name for your foreign LLC by the decision of all members. 
While submitting the name reservation certificate, your original LLC name will be listed on the application along with its new name in Utah. When naming your foreign LLC, make sure to understand all the requirements for naming. For more information visit the website  LabyrinthTM Fundraising Compliance
To comply with this, you will have to first know if the selected name is available for a Foreign Limited Liability Company in Utah and whether you can operate under this name. 
2. Select Your Registered Agent for Utah Foreign LLC
In order to do Utah foreign LLC registration, you will have to select a registered agent. The registered agent is the person who receives legal documents and filings on behalf of the corporation. One of the most important things a registered agent does is accept the service of process (legal documents) on behalf of the company. 
It's not necessary for this person to be an employee or owner of the company, but they must be available during regular business hours and have a physical address in Utah that's different from where they're conducting business. Please give LegalRegistration.com a phone call if you need more information.
There is a list of registered agents in Utah you can find online, and can take help from them to form and register your foreign LLC in Utah. 
3. File Registration of Your Foreign LLC
You can download a Foreign LLC Registration Form from the government of Utah website, fill out this form, and submit it via electronic or physical mail to the Utah secretary of state. This form will include the following essentials. 
LLC's full and correct name or DBA

LLC's primary address and mailing addresses

State and Date on which LLC was formed

Corporate registered agent's name in Utah

Date when you will start operations in Utah

$150 application fee
4. File a Certificate of Authority
To perform Utah foreign LLC registration, you will need to file the certificate of authority, which can be found on theDivision of Corporations website. This form is the first step in registration and must be filed with the Articles of Organization that were filed with the Division of Corporations.
It costs $20 and will include a filing fee that you will pay by credit card. You may also want an attorney to help you with this process, although it is not required. A person who has formed an LLC in their home country cannot register as a foreign LLC. For additional information What services do we provide? 
Instead, they must incorporate it as a domestic entity or partnership. The certificate of authority should be submitted online, but if you prefer, it can be mailed in. Once completed, the certificate will then have a summary number for identification purposes.
 5.
Obtain an Employee Registration Number (EIN)
You'll need your Employer Identification Number (EIN) before you start the registration process. You can get one online through the IRS or by visiting their office, The EIN is a nine-digit number used to represent your authority as an employer of a particular business.
It's also called a Federal Tax ID Number, and it's unique to your company. If you already have an EIN from previous business ventures, then use that number, otherwise, you will have to create a new one. Once you have your EIN, you will need to open your company's bank account and this number will also be used in many legal and operational matters.  For additional information Category
6. Determine the Tax Returns of Your Utah Foreign LLC
You may know it or not, but foreign LLCs are also subjected to Utah business tax, and they will have to fill out annual tax reports each year. You might be thinking about what's the benefit of registering your foreign LLC in a different state if you have to pay annual taxes. 
But let us tell you one advantage of this. Forming a foreign LLC will be good for your business because you can legally reach a wider market, and there will be more opportunities for your business to make higher profits. 
After you have formed your foreign Utah LLC or are done with Utah foreign corporation registration, there are certain things that need to remain to be accomplished. These are: 
Get certain business licenses according to your business type and the state in which you are operating. 

File annual tax reports for your foreign LLC

Acquire EIN to pay taxes like sales tax or product taxes (if you sell goods)
7. Comply with Annual Reporting Requirements
There are three types of reports that you will have to file with the state of Utah. These are an initial report, a biennial report, and a special report. The initial report is due within 30 days after you register your foreign limited liability company in this state. Additional information Business Licensing
The biennial report is due every two years on the anniversary of the date on which you registered your foreign limited liability company, or when your previous biennial report was due if it was filed during the preceding two-year period.
The special report must be filed whenever you engage in any transaction that changes the nature of business or identity of interest ownership as put inSection 805-1. You may request a waiver from filing by contacting our office. However, there may be penalties imposed for failure to comply with these requirements. Get more information on Legal Registration Archives
None
None