California Landscaping License Requirements
News
.
Sept. 18, 2023, 2:28 p.m.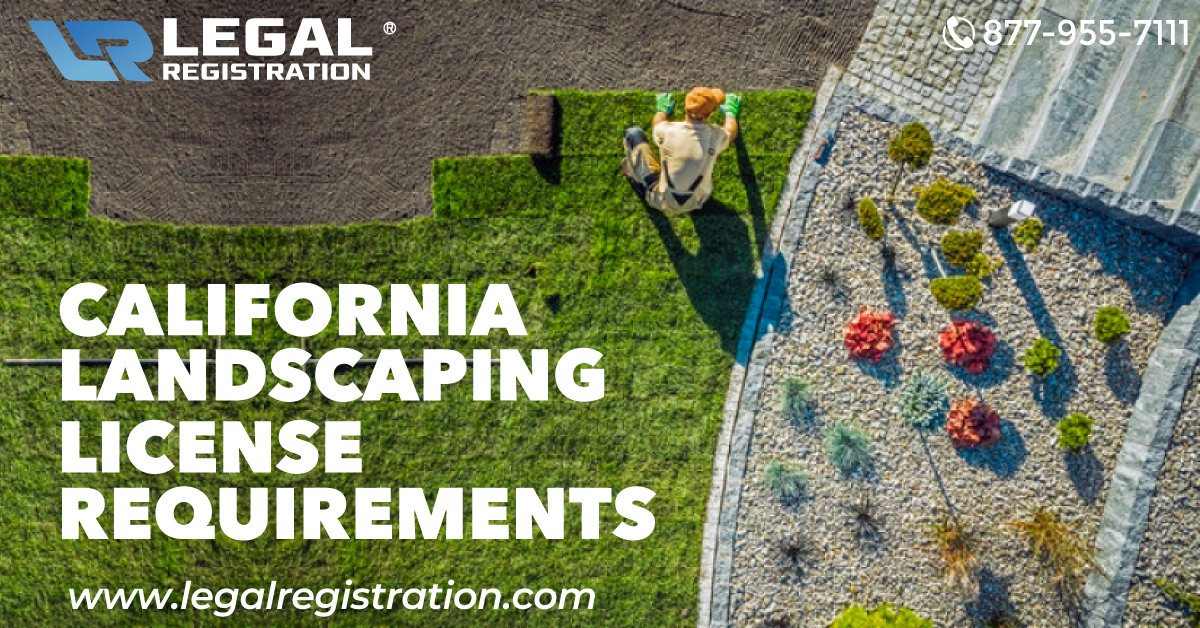 California

Landscaping License Requirements
Venturing into the green and thriving field of landscaping can be an exhilarating journey, filled with creativity, growth, and challenge. Want to know How To Start Your Own Business? In the Golden State of California, it is critical for those planning to operate a professional landscaping business to obtain the proper license, specifically, a C-27 Landscaping Contractor License.
This licensing process involves several important steps and prerequisites designed to ensure that landscaping contractors are qualified and ready to deliver the highest quality service. This article will elucidate these requirements and help you navigate your journey to becoming a licensed landscape contractor in California.
What is a C-27 Landscaping Contractor License?
A C-27 Landscaping Contractor License is a specialized certification provided by the Contractors State License Board (CSLB) in California. Know How to Avoid Using Your Home Address for Your LLC? It is a legal requirement for anyone looking to offer landscaping services on projects that cost $500 or more, both labor and materials included.
This license enables professionals to construct, maintain, repair, install, or subcontract the development of landscapes, which can include planting, arranging, and installing lawns, shrubs, vines, trees, or other flora. Additionally, it permits the installation and repair of irrigation systems, and allows for related tasks such as grading, excavation, and drainage work.
Why is this License Necessary?
While it may seem daunting to jump through these legal hoops, there is a beneficial reason behind these regulations. Obtaining a license helps ensure that professionals working in the landscaping industry have the necessary skills and knowledge to perform their duties safely and effectively. It contributes to the creation of a regulated and fair market, and protects consumers by reducing the risk of fraudulent or substandard services.
What are the Qualifications Needed to Apply?
To apply for a C-27 license in California, there are a number of key qualifications that must be met.
Experience

: Four years of journey-level experience in landscaping is required. This means that you have been a skilled worker in the field, able to perform tasks independently. This experience must be verifiable through a qualified and responsible individual who has first-hand knowledge of your experience.

Age

: You must be at least 18 years old.

Social Security or ITIN

: You should have a valid Social Security number or Individual Taxpayer Identification Number.
How to Apply for the C-27 Landscaping Contractor License?
Applying for the C-27 Landscaping Contractor License in California is a multi-step process, which includes fulfilling experience requirements, taking an examination, and submitting an application along with the requisite fee.
Step 1: Preparing and Submitting Your Application
Your first step is to complete the application form provided by the CSLB. Visit & know about S Corporations. This form requires details about your experience, a certification of your work experience, and a detailed description of the duties and tasks you performed that qualify you for a license.
Step 2: Taking the Examination
After your application has been accepted, you will be required to pass two exams: the Law and Business examination, and the C-27 Landscaping examination. The Law and Business examination covers California law as it relates to operating a contracting business. The C-27 Landscaping examination focuses on specific landscaping knowledge, such as site preparation, plant and tree installation, irrigation systems, and more.
Step 3: Submission of Additional Documents
Once you pass the examinations, you will be required to provide further documents. These include a Contractor Bond in the amount of $15,000 and proof of workers' compensation insurance if you will have employees.
What are the Fees Associated with the License?
Obtaining the C-27 Landscaping Contractor License in California involves several fees. The initial application fee is $330, and once the application is approved, there is an additional $200 initial licensing fee. Want to know What services do we provide? It's also important to note that the license must be renewed every two years, which carries a renewal fee of $400.
How to Maintain Your License?
Maintaining your C-27 license involves staying current with your license renewals, maintaining the required insurance and bond, and staying updated on industry standards and state regulations. It's also important to maintain ethical business practices and uphold high standards of service to avoid complaints that could lead to license suspension or revocation.
Enhancing Your Credentials: Specialty Certifications
In addition to the C-27 Landscaping Contractor License, there are other certifications available that can enhance your expertise and marketability. Who Must Have a Business License? Among these are certifications offered by various industry organizations, such as the Landscape Certified Technician (CLT) and Certified Landscape Professional (CLP) designations from the National Association of Landscape Professionals (NALP). These certifications demonstrate a higher level of knowledge and expertise in various aspects of landscaping, and can give you a competitive edge in the market.
Importance of Continuing Education
Beyond licensing and certification, continuing education is a vital aspect of maintaining and advancing your career in landscaping. Want to know LLC or Corporation: Which Business Entity is Right for You? Keeping abreast of the latest landscaping trends, techniques, and technologies is crucial in a rapidly evolving industry. Landscaping conventions, seminars, workshops, and trade shows offer a wealth of opportunities to learn, network, and find inspiration.
In California, several institutions and organizations offer courses and workshops on a wide range of topics such as landscape design, horticulture, pest management, and business practices. Some courses may even count towards Continuing Education Units (CEUs), which can be used to maintain certain certifications.
Navigating Through Legal and Environmental Regulations
Landscaping in California also involves understanding and navigating various local, state, and federal regulations. Know How To Start Your Own Roofing Business? These include regulations related to water use and conservation, pesticide use, waste disposal, and more. California's stringent environmental laws mean that landscapers need to be adept at creating beautiful and sustainable landscapes that are in compliance with these regulations.
Moreover, as water scarcity becomes an increasing concern in California, landscapers must also be skilled in designing water-efficient landscapes. Proficiency in xeriscaping – landscaping that reduces or eliminates the need for supplemental water from irrigation – is particularly in demand.
In addition, understanding local building codes and regulations is essential, especially when the landscaping work involves structures such as decks, patios, or retaining walls. Knowledge of these codes helps ensure that all work is done safely and legally, avoiding potential fines or legal issues down the road.
The Power of Networking and Professional Associations
Even after you've become a licensed landscaper, it's important to remain connected with the broader community of landscaping professionals. Want to know Do I Need a Lawyer To Start an LLC? Networking provides opportunities to learn from others, share your own insights, and even collaborate on projects. Furthermore, being part of a professional association can provide you with invaluable resources and support.
In California, the California Landscape Contractors Association (CLCA) is a non-profit trade organization dedicated to promoting the integrity, professionalism, and continued growth of the state's landscape industry. As a member, you will have access to industry-specific training and education, legal and business support, networking opportunities, and updates on legislative changes. CLCA also recognizes excellence in landscaping through their annual awards program, which could potentially shine a spotlight on your work.
The Importance of Business Skills
While expertise in landscape design and maintenance is vital, running a successful landscaping business also requires a strong set of business skills. It's essential to understand basic business principles such as accounting, marketing, customer service, and project management. These skills help you to effectively budget your projects, attract and retain clients, deliver excellent service, and manage your projects efficiently.
As a licensed contractor, you will need to draft contracts and agreements. Therefore, having a clear understanding of contract law is important to protect your business and maintain good relationships with your clients. Contact Us Now to Get a DC Registered Agent. Luckily, these are skills that can be learned through various continuing educationprograms, business courses, or even self-study.
Embracing Innovation and Sustainability
The world of landscaping is constantly evolving, driven by technological advancements and increasing emphasis on sustainability. As a licensed landscaper in California, embracing these changes can keep you at the forefront of the industry.
For instance, landscaping software and applications can streamline the design process, improve project management, and enhance communication with clients. Using technology can not only save time and resources but also provide a more interactive experience for your clients.
In terms of sustainability, more and more clients are looking for eco-friendly solutions. The ability to design and maintain landscapes that conserve water, attract local wildlife, and reduce carbon footprint can set you apart from competitors. Visit & know How Long Does It Take To Get an LLC? Familiarity with native California plants and sustainable design practices, such as permaculture, can significantly enhance your service offerings.
Comment
Leave a Reply
Your email address will not be published. Required fields are marked *