LLC Alabama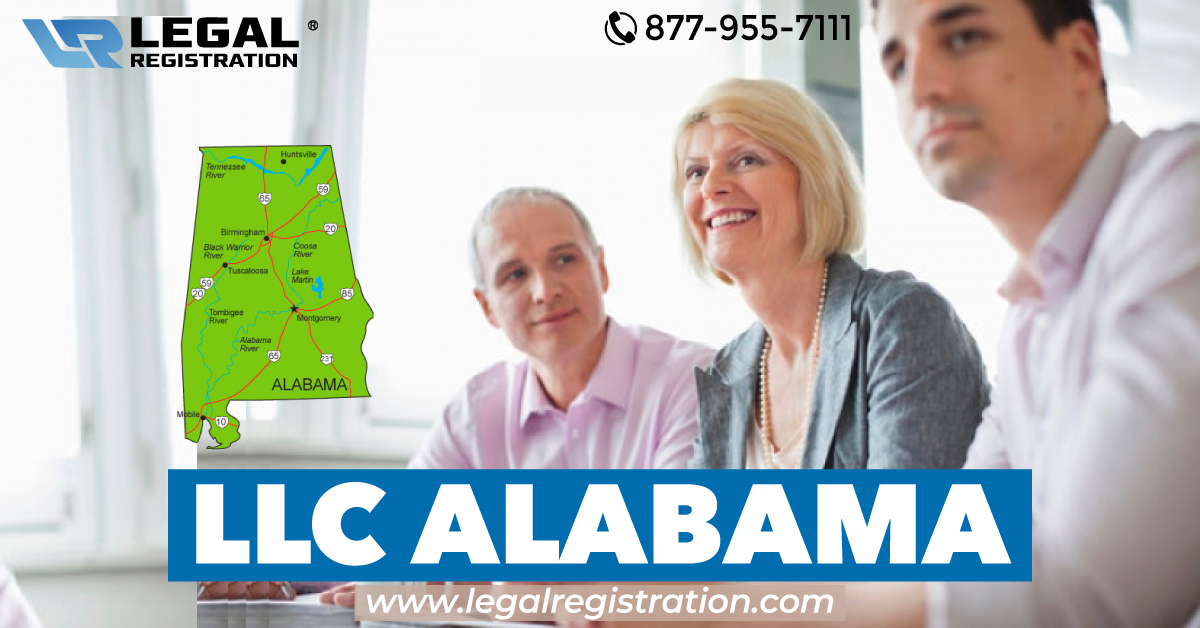 Start an LLC in Alabama
Welcome to the number one LLC Alabama formation service in the United States. LegalRegistration.com is standing by to provide you with an LLC right away. To start an LLC in Alabama, Please use this page to register a brand-new LLC. Or, you can give us a call to order a customized LLC over the phone. We look forward to helping you form your business in the great state of Alabama.
business llc tax liability organization filing form taxes services registration corporations forms formation operating application filings alabama.limited liability company operating agreement business name business structure business filings registered agent sole proprietorship organization form limited liability companies individual income tax occupational tax llc registration in alabama llc registration alabama alabama llc registration services
Start Your Domestic/Foreign Limited Liability Company Today
Our experts cannot wait to start an LLC for you right now. We can create either a domestic or foreign Alabama LLC with ease. "Domestic" means that the LLC has registration within the state of Alabama. "Foreign" refers to expanding a current LLC in another state into Alabama. Our limited liability formation services go the extra mile.
Say that you need a Domestic Limited Liability Company Certificate of Formation. We can begin the AL LLC registration process within minutes. This applies to all Foreign Limited Liability Company Application for Registration forms. We encourage you to browse this web page to learn the basics of having an LLC. If you have any questions, do not hesitate to give our team a phone call.
State-of-the-Art Domestic LLC Filing
LegalRegistration.com's pleased to provide some of the lowest LLC filing fees in the US. At one low price, we can get your LLC registered with the AL Secretary of State. When doing so, our experts will put all common domestic LLC procedures in place.
Have you already decided on your LLC entity name? If not, keep the following information in mind. The LLC entity name has to feature one of the following terms. They are: LLC, L.L.C., or Limited Liability Company. Know What services do we provide? If you're ready to apply for an LLC name in Alabama, we can assist. Our team can fill out a Certificate of Name Reservation [10A-1-4.02(f)]. We will do this before we file the official Alabama LLC formation documents. This way, you can secure an LLC name reservation for your domestic entity. Plus, we can also take care of LLC name reservations for all foreign entities. Our experts look forward to filing your Formation Certificate with the State Secretary.
Ultra-Fast Foreign LLC Filing Service
Like our domestic LLC filing service, we have a foreign filing service that is super fast. At a low filing fee, you do not want to file a foreign LLC with any other registration service. We're prepared to file your foreign LLC with the Alabama Secretary of State now. When doing so, our team will adhere to all legal foreign LLC procedures.
Here is the Alabama State policy for naming a foreign LLC. In fact, it follows the name LLC name policy as registering domestic LLCs. Your foreign LLC name must end with one of the following terms. The terms are: LLC, L.L.C., or Limited Liability Company. Then, our team can file your Certificate of Name Reservation [10A-1-5.11]. This step takes place before we will file the state Application for Registration.
Next, our experts will file two copies of the following document with the state. It's called the Foreign Limited Liability Company Application for Registration. This filing takes place through the Business Entities Division. Want to know How Long Does It Take To Get an LLC (The Alabama Secretary of State oversees that division.) That is the common process of securing a name reservation for foreign entities. We look forward to filing a Foreign Limited Liability Company Application for Registration. Our team will provide it to the Alabama Secretary of State ASAP. Then, we can double-check to ensure the Business Entities Division receives the form.
We File All Categories of Business Documents
Sure, LegalRegistration.com specializes in starting and registering LLCs in Alabama. But we can also take care of all categories of business registration in the state. From business forms to general forms to entity name reservations. Plus, we're here to serve as your LLC registered agent. When doing so, we'll take care of all your registered office changes.
Now, say that your registration involves more than a standard LLC filing. Our team can handle all other entity filings. From foreign corporations to domestic corporations and partnerships. Yes, we file documents for limited liability companies every day. But we can also file limited partnerships (LP) and limited liability partnerships (LLP). Did you know that there's even an Alabama registration or an LLP? It stands for limited liability limited partnership. We can register that partnership and all types of general partnerships. Not to mention, our experts can file all your business mergers and conversions.
As you can see, there's no limit to what LegalRegistration.com can do for your business. We've got you covered across all Alabama sectors of business entities. Our unique online services specialize in both domestic corporations and foreign corporations. Even Alabama homeowners' associations depend on our registered entity services. Whether you need new LLPs, LLCs, or another entity- we're here to assist you today. Our team looks forward to helping you establish the Alabama business you envision.
Get Your LLC Business Registered Today
Our LLC Alabama division is ready to help you get your business registered now. They form Alabama LLC after LLC every single day. But our LLC team takes care of so much more than standard LLC registration. They can also walk you through how to get an LLC in Alabama. How to start an LLC in Alabama might seem confusing and complicated. But we make starting an LLC in Alabama a simple and fast legal process.
If you want to start an LLC in Alabama, do not waste your time and money with other companies. Instead- you can let us, the best in the business, handle your AL LLC formation. So, what are you waiting for? You can use this web page to open an LLC Alabama now. Or, please give us a call to begin the LLC registration process over the phone. We even have an LLC guide written below to all you through common formation steps. This way, you will know what to expect when our LLC experts get to work.
Starting Your LLC Within Alabama: Six Simple Steps
Let's now go over the basics of how to start your LLC within the state of Alabama. Follow our patented LLC step by step guide below. It covers all bases for forming a limited liability company. Remember, having an LLC can help you structure and protect your business. An LLC features the limited liability of a corporation. But it also combines positive elements of a sole proprietorship and legal partnership. Say that a business owner wants to limit his or her personal liability. Having an LLC can do that thanks to protection from lawsuits and business debts.
Well, what are you waiting for? Let's go ahead and jump into the basic steps of creating an LLC in Alabama. First, we're going to explain how to select a name for your AL LLC. Then, you will understand how to appoint registered agents. Once you have agents, you can file a certificate of formation with the state. Then, all you've got to do is draft an LLC operating agreement. As a bonus, we've included information on how to file an annual report. That section also features crucial information about filing a state tax return. If you have questions, do not hesitate to give our registered LLC team a phone call.
First Step: Pick a Name for the LLC
Begin your LLC formation process by reserving an official LLC name. The name reservation process will go through the Alabama Secretary of State. This step has to happen first before filing an LLC formation document. Let's say that you've got a proposed LLC name in mind. Our team can check with the state to see if you can reserve the specific name. If so, we can provide you with an LLC name reservation right away. Otherwise, you could mail a Name Reservation Request Form for Domestic Entities form. That document would go to the Alabama Secretary of State office. But it might take weeks or even months to hear back from the Secretary of State.
Please note that your LLC name cannot appear like any other registered LLC name.
After all, thousands of other business entities have already filed with the state. A list of current LLC names exists within the Alabama Secretary of State office. Here is what to do before you file the LLC form mentioned above. Try searching for your potential LLC name online. You can do this through the Alabama business ante database. The LLC name database exists on the Alabama Secretary of State website. Say that your proposed LLC name isn't in the database. This means, chances are, you can register your LLC name with the state. Get more information.
Keep the following Alabama LLC state law in mind.
Your LLC name has to feature one of the following words. These are the words: L.L.C., LLC, or Limited Liability Company. Your LLC name cannot feature a word that implies something your business doesn't do. Know here How to get Business Licensing. Here is an example. Say that you're forming an LLC to start an ice cream store business. Your LLC name cannot feature a word like Bank or Financial Services.
Did you know that your business can use a trade name even as a registered LLC?
That's right. Your business does not have to use its official LLC legal name. (This refers to the LLC name that your Articles of Organization states.) Instead, feel free to title your business name as a trade name in Alabama. This means you can use a DBA: short for doing business as. Or, your business can use a fictitious business name or assumed business name.
Here is how the business name process works in Alabama.
All you've got to do is start using your trade name. This way, the state will recognize your business by that name instead of an LLC name. Let our organization know if we can help you with name filing. We can register the Alabama Application to Register Trade Name. This way, your business name can get registered with the AL Secretary of State.
Second Step: Appoint Any Registered Agent
Each LLC in Alabama needs a registered agent on file. There are no exceptions to this state policy. Your registered agent will accept the service of process in your state. A registered agent can function as a corporation or individual. That entity will accept legal papers related to your LLC. This process refers to papers that get served to an LLC if a company gets sued. Your agent will agree to accept each service of process. This way, the limited liability company can receive the documents ASAP.
Sure, a registered agent can operate as an individual residing in Alabama. But countless Alabama LLCs opt to select LegalRegistration.com as an agent. Please browse our website to learn more about our full-scale aging registered services. Those services apply to any LLC or business in every state. Our registered agent programs are in a league of their own. That's why we're the #1 out-of-state business entity. We can supply you with an agent office address in Alabama at any time. Then, the Secretary of State will keep your business and LLC in full compliance.
Third Step: File the Certificate of Formation
It's now time to file a Certificate of Formation for your new LLC. This filing takes place through an Alabama county probate court. You cannot form an Alabama LLC without filing the Certificate of Formation. Otherwise, a Judge of Probate in your county will not know your LLC exists. Make sure that you file LLC registration in the same county where you operate. A Probate Court will process your form and give you an official stamped copy.
Next, the court will send an LLC certificate to the Secretary of State in Alabama. Please let's know if you need a list of probate judge names and addresses. We can supply a list for every single county within Alabama. Plus, our team can help you navigate the Alabama Secretary of State website.
Here is the information that an LLC Certificate of Formation features. First, it contains the name of your limited liability company. It also has the address and name of the registered agent of your LLC. The certificate also defines if the LLC is a professional LLC or series LLC. It will also define if you plan on operating your LLC as a nonprofit LLC. This AL certificate will feature the date that your LLC goes into effect. Make sure that your LLC organizer signs the bottom of the document. Then, you have to attach a LLC Name Reservation certificate copy to the forms. Your Secretary of State will provide you with the LLC Name Reservation certificate. The state of Alabama will charge a standard LLC filing fee. Plus, the Probate Court in Alabama also charges a filing fee.
Fourth Step: Draft an Operating Agreement
The time has come to prepare an operating agreement for your LLC. Now, the state of Alabama does not enforce the creation of operating agreements. But every legal expert in Alabama will urge you to create an agreement. Why? Because an agreement functions as the most crucial LLC internal document. The document communicates how to run your LLC with ease. Plus, it establishes the responsibilities of all members and managers. Without question, it's almost impossible to manage an LLC without an operating agreement.
Our organization is ready to draft an operating agreement for your LLC. We can structure the document so you can manage your LLC with ease. Plus, our team will help preserve your limited liability. How to Start Your Own Roofing Business? How so? By proving that your LLC functions as its own business entity. Trust us. You do not want to form an LLC in Alabama without an operating agreement. If that happens, Alabama State LLC law will dictate how you operate your LLC. Please give us a call now for help creating your operating agreement. Plus, our experts can provide more advice about how to form your own LLC. We cannot wait to guide you through any limited liability company process.
Fifth Step: File Your AL State Tax Return & an Annual Report
Every LLC in Alabama has to file the following document. It's called the Business Privilege Tax Return. Know What Is an EIN Code? Then, an LLC must also file an LLC Annual Report. Both filings take place through the Alabama Department of Revenue every year. The least amount of tax your LLC must pay the state per year is $100. Contact our organization for more details about tax forms. We can walk you through any Alabama Department of Revenue LLC policy.
Do you plan to collect sales tax or sell goods at your company? What about hiring employees? Any of those actions cannot take place without proper state registration. That registration takes place through DOR: the Alabama Department of Revenue. Our experts can help you register your LLC with DOR online. Registration will happen via the My Alabama Taxes (MAT) website. Or, paper registration of your LLC can also take place.
If you need paper registration, we will file DOR Form COM:101. Then, our team will also file the Combined Registration/Application. Once again, please contact us for more Alabama LLC tax registration information. We can also supply information about LLC annual reports filed through the state. There are many LLC annual filing regulations in Alabama. But you're not in this alone. LegalRegistration.com is here to help your company succeed at all times.
Sixth Step: Get Your EIN Through the IRS
Congratulations! Your LLC registration process is almost complete. But you're not out of the woods yet. It's time to secure an EIN number from the IRS: Internal Revenue Service. This way, you can adhere to all IRS tax and regulation policies. Any LLC with more than one member must secure the EIN. It stands for the IRS Employer Identification Number (EIN). Even most one-member LLCs need the number. AN EIN is for any one-member LLC that files a separate tax return. Our organization can help you secure an EIN today. We're ready to fill out your online EN application with the IRS. This way, you won't get confused about so many overwhelming IRS filing policies.
At this step, it is also best to get business licenses for your LLC. Your exact business licenses depend on the specifics of your business. Plus, most LLCs also need both state and local business licenses. want to know What services do we provide? Our team can contact your local county probate office on your behalf. Then, we can work with an Alabama county licensing commission in your county.
Here is one more legal concept to keep in mind during this step of starting an LLC
Try to keep all your LLC records in one place. Why? Because the state of Alabama could ask your business for records at any time. That's why your principal office should hold all its records together. Then, your LLC members can access the records for the state with ease. Common LLC records include a list of names and addresses for every manager. This also applies to information about each LLC member.
Remember to store a copy of your articles of organization. Plus, your LLC should hold onto income tax records at the state and federal level. Also, hold onto copies of your LLC operating agreements and amendments. Please contact our company for a complete list of LLC records to store.
The Basics of Business Insurance for Alabama LLCs
We recommend that any new LLC should get business insurance right away. Why? Because insurance can help you manage risks and even grow your company. There are three crucial types of business insurance in Alabama. First, there is general liability insurance. This is a broad insurance policy that can protect any LLC from a lawsuit. The majority of small companies and LLCs have this type of insurance.
Any LLC owner should also consider signing up for professional liability insurance.
This business insurance is ideal for a professional service provider. It covers claims related to malpractice and other common business errors. Next, your LLC will need to consider securing workers' compensation insurance. This form of insurance covers the employees of a company or LLC.
Say that an employee becomes ill, suffers an injury, or dies. Workers' compensation insurance will protect the liability of your business. Here is an Alabama insurance law to keep in mind. Any company with at least five employees has to have workers' compensation insurance. Visit & know How To Start Your Own Business? Do not forget that every LLC officer and member counts as an official employee. So, do you have questions about securing LLC business insurance? If you do, please contact us now for more information or browse our website for articles.
Start an LLC in Alabama Today
We encourage you to start your LLC in Alabama right now. Through our services, you can form your limited company with ease. Our programs work for any type of new business. From a standard LLC to a corporation to a sole proprietor. Creating an LLC will limit your personal liability as an owner. This way, you won't have to lose sleep worrying about business debts and lawsuits. Are you still unsure which legal structure your business needs? If so, please give us a call. Our experts can assess your information and find solutions. LegalRegistration.com is a one-stop-shop for any limited liability company.
Questions About Startingan an Limited Liability Company? Call Us Today
Our organization is here for you at all times if you have any questions about LLCs. In fact, we encourage you to pick up your phone and dial our number now. We can walk you through any LLC registration step. Plus, our legal experts can take care of all your other business registration needs. You're also welcome to send out questions via email or a message on our website. We look forward to helping you create a first-rate LLC in Alabama.