LLC Arizona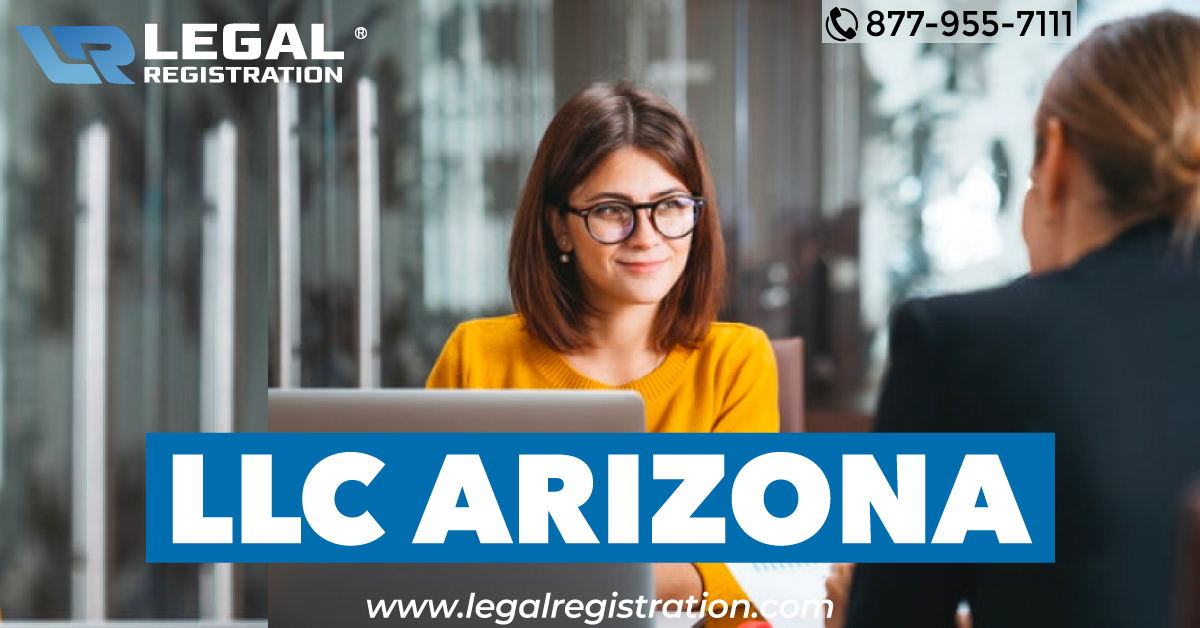 LLC Arizona
Welcome to the LLC Arizona services of LegalRegistration.com. We provide full-scale LLC compliance, formation, and maintenance programs. Our team's standing by to form a limited liability company for you right now. You can order your Arizona LLC right here on our website. Or, feel free to call us any time and place your LLC reservation by phone. We cannot wait to help you create the business that you've always dreamed of.
What Is the Purpose of an LLC?
Registered Agent So, what is an LLC? The term "LLC" stands for limited liability company. Each LLC functions as a simple and effective business structure. With an LLC, you can have more flexibility than through using a standard corporation. But your limited liability company will provide all corporation-style benefits.
An LLC is one of the most popular business structures in both the US and Arizona. But say that you're unsure whether you need an LLC. If so, you can contact our organization to ask questions. We can tell you about other business structures like an S corp, C corp, and partnership. Plus, we can also register your business as a sole proprietorship or any corporation. Please browse our website to find out more information. But do not hesitate to call our business registration team if you're in a hurry.
Our Experts Can Help You Get a DBA/Trade Name for Your Business
Here is a common question that our organization receives from first-time LLC owners. "Can I get a trade name or a DBA for my LLC business?" Well, the answer is yes. In Arizona, you can set up a DBA or trade name to use for your business. That is the case once you register an LLC in the state. This way, your LLC name can only function as the brand name of your company. Then, you can accept payments or checks under different business names. Please contact us now to get a trade name or DBA (doing business as). We can file a DBA for you in Arizona or within any other state.
We Can Complete All Arizona Corporation Commission Filings
Our organization is ready to register your business with the ACC in Arizona. The ACC refers to the Arizona Corporation Commission. We can work one-on-one with the commission to take care of all business filings. Sure, we specialize in forming corporations and LLCs in the state. Want to know How To Start Your Own Business? But our experts can reserve any type of entity or entity name that you need. Our services apply to forming any type of new corporation or LLC in Arizona.
can continue assisting you once your business is up and running. Here are some examples. We can file an annual report for your LLC or make changes to your business status. If you're in a rush to make those changes, that's no problem at all. In many cases, our business experts can provide next-day or same-day service.
Remember, our registration team can make changes to any type of business. This way, you can achieve your company goals and make more money in AZ. Our experts can even supply your business with a trade name or trademark. Plus, we can assist you in paying the state business tax and all other Arizona fees. You're never in this alone. LegalRegistration.com is here to help guide your company or LLC to new heights
What Are Foreign LLCs in Arizona?
Here is what a foreign LLC is. It is an LLC that's first formed in a separate state. Then, the business owner expands the LLC into one or more other states like Arizona. This way, a company can start operating as an entity across many states. It's a common process that helps an LLC owner begin making more money.
Say that you already have an existing entity. But you want to start doing business within Arizona state lines. That is when you must register your company as a foreign LLC. Thus, your domestic LLC converts into a foreign LLC in the state of Arizona. Our team is standing by to take care of all your Arizona foreign LLC registration needs. Please contact us now to register a foreign LLC ASAP.
Can I Dissolve My AZ LLC?
Yes. Our organization is standing by to help you dissolve an LLC in Arizona. We will do this if you no longer want to operate a business as an Arizona LLC. Once you make that decision, it's best to dissolve the LLC right away. Failing to do that can result in tax penalties and liabilities. Plus, legal trouble directed at your company could also take place.
When dissolving your LLC in Arizona, our team will follow three general steps. First, we'll adhere to dissolution legal language written in your LLC operating agreement. Then, our experts will shut down all your AZ business tax accounts. The third step is for us to file the Articles of Termination under Arizona law. This step also refers to filing Arizona Articles of Dissolution for an LLC. If you're considering executing the dissolution of your LLC, call us right now. We're here to help you make a smart and informed business decision.
Our LLC Arizona Division Is Ready To Help Your Company Succeed
Are you ready to open an LLC in Arizona? If so, the Legal Registration team is here to assist. Formation of an LLC in Arizona might seem like a complicated process. But we're here to make starting an LLC in Arizona simple and easy for you. You might wonder how to start an LLC in Arizona. If so, please read the step by step LLC guide written below. It explains how to get an LLC in Arizona with relative ease.
Remember that you do not need to execute any of our LLC registration steps. Instead, our own registration team can take care of each step on your behalf. This way, you can set up your Arizona LLC with ease. Visit & know How Long Does It Take To Get an LLC? Our LLC Arizona division can help you form a business that exceeds your expectations. We cannot wait to provide a full-scale limited liability company for you at any time.
We'll Start Your LLC in Arizona Through Six Simple Steps
Legal Registration is here to make starting an LLC within Arizona easy for you. To start an LLC in Arizona, our experts can apply the following six steps. First, we can register your LLC Articles of Organization. This takes place through the ACC: Arizona Corporate Commission. We can apply your application by fax, mail, online, or on an in-person basis.
Your LLC Articles of Organization is an important legal document. Every business needs the document to form its AZ limited liability company. So, please follow our step-by-step LLC registration guide. Again, our LLC registration agents can execute every step inside this guide. If you have questions about the steps, do not hesitate to give our company a phone call.
LLC Registration Step 1: Give the LLC a Name
Sure, this sounds like a simple LLC registration step. But it is important and can even get a little complicated. The key to forming an Arizona LLC is to pick a unique business name. A name has to adhere to all Arizona rules and regulations for LLCs. Plus, you'll need a name that potential clients can find with ease.
We'll begin your registration by following the AZ naming guidelines. Most Arizona LLCs use "limited liability company" within a name. Otherwise, an LLC has to use "L.L.C." or "LLC" in its official LLC name. The LLC name cannot feature words that could confuse your company with an agency, Here is an example. Your LLC name cannot feature government agency words like "FBI" or "Treasury." The state of Arizona also features a unique list of specific restricted words. Restricted words can include "University," "Bank," and "Attorney." Some LLCs receive permission to use restricted words. But first, the business owner has to file extra paperwork with the state.
Keep in mind that your LLC name cannot appear the same as any other LLC name. After all, there are thousands of active LLC names already registered in the state. Plus, an LLC name cannot appear the same as a coronation name or trade name. The name also must appear different from a limited partnership or corporation name. Contact us if you need help contacting the Arizona Corporation Commission. We can download a current LLC name list through the ACC and provide it to you. This way, you can make sure your proposed LLC name isn't already in use. Our team can also conduct a search on the Arizona eCorp website.
We also recommend that you make sure a website URL exists that you can buy. Our team can help you check online to see if your business name can become a web domain. Say that you do not intend to create a business website in the next few weeks. You still should consider buying a website URL so that no one else can get it. This way, you can begin creating a website once we form your LLC.
LLC Registration Step 2: Hire a Statutory Agent
The next step is to nominate a statutory agent within Arizona on behalf of your LLC. Keep in mind that "statutory agent" refers to a standard "registered agent" in other states. So, what does a statutory agent do? The agent functions as either a business entity or individual. An agent must receive every important tax form that an LLC company receives. Want to know How To Start Your Own Roofing Business? This includes every type of state and federal tax form or legal document. Plus, it is up to the agent to provide any notice of lawsuits. In fact, all government correspondence must go to an agent before an LLC receives it.
Here is how to view a potential statutory agent. The agent's going to operate as a point of contact between your LLC and the state. So, who can begin operating as your LLC statutory/registered agent? First, the agent has to live in Arizona or the agent corporation must have a state office. This concept relates to the registered agents service of our own company. Legal Registration has AZ state government authorization to transact business.
We encourage you to not elect an individual to serve as your agent. Trusting one single person to handle all your LLC documents is a big-time risk. Instead, our company can manage your statutory LLC needs with ease. Do you want to learn more about how statutory agents operate in Arizona? If so, please contact our company right now. We're standing by to serve as the trusted agent for your Arizona LLC.
LLC Registration Step 3: File Arizona Articles of Organization
It's now time for us to file your Arizona LLC Articles of Organization with the state. This step is crucial for getting your Arizona LLC registered. Let's now go over the forms filed through the ACC: Arizona Corporation Commission. First, our team will file Form L010: Articles of Organization (LCC). Then, we will file a Statutory Agent Acceptance form. Along with the tax form, we'll fill out the Member or Manager Structure Attachment. The state will then ask us to provide a Cover Sheet along with the standard filing. Our organization will take care of the filing online. Visit & check the LLC Registration Form. This way, the state can process your application faster than in-person or mail.
This step involves our company asking you an impotent question. Do you want your LLC to get member-managed or manager-managed? Once, we know we can compete every Arizona Articles of Organization form. Now, say that you're expanding a current LLC from another state into Arizona. That is when we will register a foreign LLC for you with separate articles. (Let us know if you have questions about foreign LLCs vs. domestic LLCs.) You might wonder how long it takes the state to process Articles of Organization forms. The standard waiting period varies and can last up to thirty business days. But do not despair. In most cases, our organization can speed up the process.
LLC Registration Step 4: Finish the State Publication Requirement
Did you know that the state of Arizona has an official LLC publication requirement? This rule applies to any new LLC formed within Arizona. The LLC must publish a Notice of LLC Formation. Publication of the notice has to take place for three consecutive weeks. The publication gets listed in a newspaper approved by the state. In most cases, the newspaper must exist within the county of an LLC principal office. This step has to happen within sixty day of the formation of your LLC.
Let's say that your business will hold a principal address in Pima or Maricopa county. In that case, the state of Arizona provides an exception. Your LLC will not have to publish the Notice of LLC Formation. Otherwise, here is what your Notice of LLC Formation must include in a publication. First, you must state the name of your LLC and the street address/name of your agent. (This refers to your statutory or registered agent in Arizona.) It must also feature the address of the principal place of business for your LLC. Plus, you must state if your LLC will get member-managed or manager-managed.
Do not forget to provide addresses and names for each LLC manager in the filing. Or, every single member related to your LLC. Do you need more information about Arizona LLC publishing rules and regulations? If so, please give our LLC registration organization a call right now.
LLC Registration Step 5: Draft an AZ Operating Agreement
The next step is to form an Arizona LLC operating agreement for your own LLC. Now, the state of Arizona does not enforce the creation of operating agreements. But it's best to always have an LLC operating agreement in place. So, what is the key purpose of having an operating agreement? It is a legal document that can guide and protect your company. The document details the operating and ownership procedures of every LLC.
Here is why having an official LLC operating agreement is so important. The agreement will serve as a tool to keep all business owners on track. As a result, the owners will not have to worry about a future conflict taking place. Please refer to our official Arizona LLC operating agreement guide for more info. Or, you're welcome to give our LLC formation experts a call right now.
There is some good news about drafting an operating agreement. You will not have to file the agreement with the state of Arizona. Instead, hold onto your agreement as an internal document. Keep it at your principal business office for future reference. Now, say that you're having our organization create a foreign LLC in other states. Some states do enforce the creation of operating agreement documents. That's another key reason why it's best to have an agreement in place.
LLC Registration Step 6: Get an EIN Through the Internal Revenue Service
Our final major LLC registration step is to help your business get an Arizona LLC EIN. You might not know what an EIN is. Know What services do we provide? It refers to the official IRS Employer Identification Number. The Internal Revenue Service can issue your business a nine-digit number. As a result, the government can recognize your business with ease every tax season. In many respects, an EIN functions as the Social Security number (SSN) of a company.
Here is another term that always refers to an IRS EIN. It's called the Federal Tax Identification Number (FTIN). Or, the IRS can use this term: Federal Employer Identification Number (FEIN). You might wonder why having an EIN is so crucial for an LLC to succeed. Well, you cannot start a business bank account with an EIN. Plus, a business owner cannot manage/file state and federal taxes without one. You even need an EIN to hire employees at your company.
Let's say that an active IRS EIN already exists at your sole proprietorship. Here is what the IRS states you must do, As a business owner, you have to get a new EIN. Otherwise, you cannot convert your EIN into an LLC in Arizona. Please call us right now to order EIN registration for your business. We can still help you get an EIN if you do not have a Social Security number. Our team will begin the registration process by filling out IRS Form SS-4. Then, we'll file the EIN application with the IRS right away.
Which Tax Structure Works Best for an Arizona LLC?
Say that you follow step six and receive an IRS EIN through our organization. The IRS will inform your business about your LLC tax classification. Most of the time, an LLC elects to have the IRS apply default tax status. But some LLCs opt to secure S corporation (S corp) legal tax status. This way, the LLCs can reduce certain federal tax obligations. Please browse the LLC vs. S Corp guide on our website to learn more information. Or, you can give our Arizonan LLC experts a phone call at any time.
Remember, following step 6 (in the LLC registration guide written above) is crucial. Almost every type of LLC in Arizona and the rest of the United States must have one. An EIN is for any LLC that has employees. It is also for all LLCs featuring more than one member. This refers to official IRS tax policies at the federal and state level. Again, call us with any questions about EINs and IRS LLC policies in Arizona.
Remember To Separate Personal & Business Assets
An LLC owner cannot afford to mix his or her personal and business accounts. When that happens, you can risk losing ownership of personal assets. Standard personal assets include a car, house, and other common valuables. You could lose those assets if your LLC gets sued and you do not have legal protection. This unfortunate situation refers to "piercing the corporate veil." Through Legal Registration.com's LLC services, we can protect your corporate veil. In fact, that's why thousands of Arizona companies depend on us. They know that our LLC programs can lead to long-term asset protection.
Do Not Forget To Open a Business Checking Account
Once again, the above notion applies to separating assets. You need to ensure that you separate all your company assets from personal assets. This concept applies to any business or LLC owner. Want to know Do I Need a Lawyer to Start an LLC? Personal asset protection becomes easier once you use a business checking account. Plus, it also makes tax filing and accounting processes run well. The key is to use your EIN when filling out your LLC bank application. Please contact us if you need advice about opening an account with an EIN.
Questions About Registering LLCs in the State of Arizona? Call Us Now
Our organization's standing by to register your LLC with the Arizona State government. Plus, we can take care of all your other business registration filing needs. We encourage you to give us a call right now. Within minutes, our experts can assess your needs and put solutions in place. Know How to Avoid Using Your Home Address for Your LLC. Remember, you and your company are never in this alone. The Legal Registration is here for you on a 24/7 basis. Our goal is to help your Arizona business and LLC succeed for yours to come. We look forward to serving as your go-to resource for LLC formation and compliance.