LLC Idaho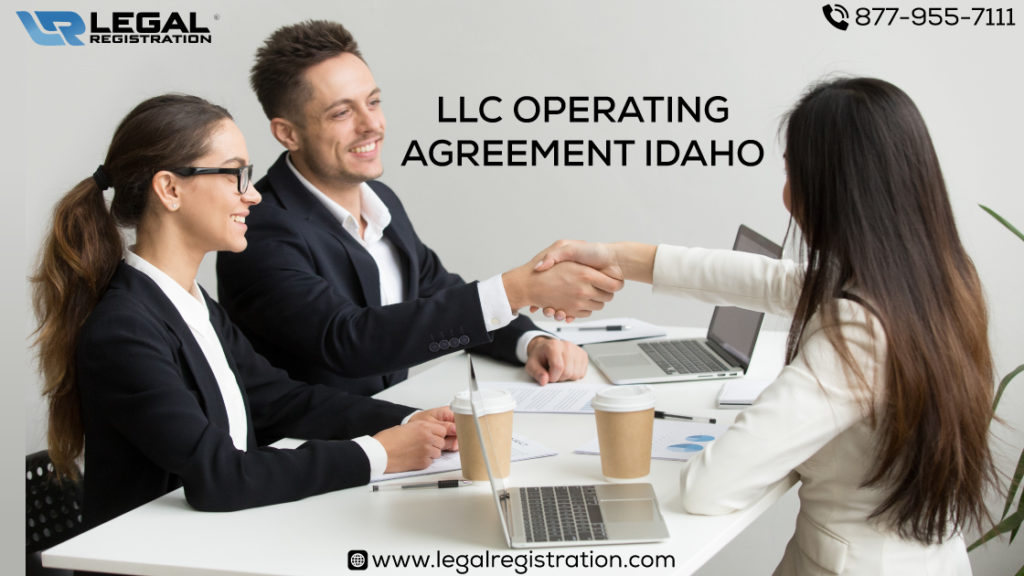 LLC OPERATING AGREEMENT IDAHO
LLC Registration in Idaho
Our organization's LLC Idaho division is standing by to help you succeed. We can begin your LLC Registration in Idaho. Feel free to order an Idaho LLC right here on this web page. Or, you can reserve a customized LLC formation over the phone. Either way, we cannot wait to assist you in starting your new business venture.
So, what are LLCs? The term "LLC" stands for "limited liability company." Each LLC functions as a simple business structure and entity. Your LLC will provide you with a lot of flexibility. Meanwhile, owning a corporation is more rigid with much stronger restrictions. Through an LLC, you can reap the benefits of a corporation without losing flexibility. Please continue reading to learn the basics about limited liability companies. If you have any questions, feel free to call our organization.
The Six Steps for LLC Registration in Idaho
Are you wondering about LLC Registration in the state of Idaho? If so, please refer to the steps written below. But remember that LegalRegistration.com can take care of each step for you. This way, you can form a limited liability company without dealing with paperwork. Our team will structure your business in the best legal manner. We'll also make sure that your LLC has the limited liability of a corporation. Plus, our experts will provide your LLC with the flexibility of a sole proprietorship.
Do you want to start working as a business owner in Idaho? If so, having an LLC can limit your personal liability. This way, you can protect yourself from lawsuits and business debts. Listed below are six steps for LLC Registration in Idaho. Please contact us if you have questions aboutLLC Registration in Idaho. LLC Registration Form.
1) Select an LLC Name
Here is how Idaho state law works. An LLC name in Idaho has to feature the phrase, "Limited Liability Company." Otherwise, the name should state "Limited Company." Or, there is an alternative to shorten the LLC name. You can use an abbreviation like "L.C.," "L.L.C.," or "LLC." The name of your LLC cannot appear like any other LLC name in the state of Idaho. Keep in mind that thousands of business entities already exist in Idaho. Each entity already has an official filing through the Idaho Secretary of State.
Here is how to know if your potential LLC name already has a filing in Idaho. You will need to access the Idaho Secretary of State website. This website features a business name database. Let's say that your entity name is available. That means you can reserve an LLC name. You must then file a Reservation of Legal Entity Name. This filing takes place via the Idaho State Secretary. Your name reservation will last up to four months. An LLC name reservation can take place online or through postal mail. The state will charge a filing fee to process your name reservation application.
Did you know that it is requiered for LLC Registrations in Idaho to  have a registered agent? It's a limited liability company state law. Through an agent for service of process, you can follow all state government policies. So, what is a registered agent? It's a business entity or individual who agrees to accept legal papers. The entity does so on behalf of the client, which is a limited liability company. This is a common process whenever someone sues an LLC.
Your registered agent can operate as an individual residing within Idaho state lines. But instead, many LLCs business owners decide to hire a foreign or domestic entity. In fact, any company can get registered through the Idaho Secretary of State. And that is what LegalRegistration.com has done. We're standing by to serve as your dedicated registered agent. That's why we have a physical office address inside the state of Idaho. Please contact us now if you're considering getting a registered agent. How Long Does It Take To Get an LLC?
3) Fill Out & File the Certificate of Organization
Your Idaho LLC has to fill out and a file a crucial state registration document. It's called the Certificate of Organization of Limited Liability Company. This filing takes place through the State Secretary of Idaho. Here is the information that goes inside the certificate. First, you must include the name of the LLC. Then, list the mailing address and street of your LLC principal office. The state will also need the address and name of the registered agent at your LLC. Next, make sure that the LLC organizer provides a signature onto the document.
In Idaho, the filer also has to feature the address and name of at least one "governor." But we're not referring to the Governor of Idaho or another state. In this case, the governor functions as a manager or member of an LLC. Say that your LLC becomes manager-managed. The "governor" in this case is the manager. That same concept applies to a member-managed LLC. A member will sign as the "governor." You can file the ID Certificate of Organization online or through postal mail. Either way, the state will charge a filing fee. The Best State for LLC.
4) Create Your Operating Agreement
The state of Idaho does not enforce the creation of an LLC operating agreement. But wait. Do NOT skip this step. It is crucial for every limited liability company to have an operating agreement. Why? Because an operating agreement is the most important document at any LLC. It's an internal instruction for how your LLC will run now and in the future. The agreement sets forth the rights and responsibilities of all key players at an LLC. From the owner to the managers to the members or even a single member. Your operating agreement will tell the state how your company gets managed.
Operating agreements also have a national reputation for preserving limited liability. An agreement can prove to the state and a court that your company's a separate entity. Trust us. You do not want to run your Idaho business without an operating agreement. If you do, state law will force you to govern your LLC in a certain manner. If you need help drafting your operating agreement, please call our organization. Remember, you do NOT want to form your own limited liability company without one. We cannot emphasize this enough. Do I Need a Lawyer To Start an LLC?
5) Receive an EIN: Employer Identification Number
In almost all cases, your limited liability company will need an EIN number. This refers to the IRS Employer Identification Number. Every LLC in the US with more than a single member must secure an EIN. That is the case even if the business features zero employees.
Even almost all one-member LLCs still need to get EIN numbers. After all, are you going to run your business without any employees? Of course not. Well, you cannot hire an employee until you have an EIN. Plus, you cannot change the tax status of an LLC without the number. This concept applies if you want an LLC taxed as a corporation. (Instead of getting taxed by the IRS as a sole proprietorship or disregarded entity.) The IRS website will allow you to complete an EIN application. If you get stuck, please call our office and we can help your LLC get an EIN registered. What Is the Difference Between Tax ID and EIN?
6) File an Annual Report Through the State
All LLCs operating a business in the state of Idaho have to file an annual report. The report filing will take place through the Secretary of State. Each annual report becomes due before the end of an LLC anniversary month. The State Secretary will send out email reminders about a month or two in advance. This way, you company will know that it has to file the report. Your State Secretary will not charge a filing fee. Please contact our organization if you need help filing a report.
Our LLC Registration  Divisionin Idaho Is Standing By To Assist
The LLC Idaho division of LegalRegistration.com is ready to get to work. We cannot wait to help you form an Idaho LLC today. Our team understands that how to get an LLC in Idaho seems like such a pain. But you're not in this alone. Through our services, you can discover fast and easy registration solutions. With advanced tools, we'll make how to start an LLC in Idaho look like a piece of cake.
We encourage you to call us if you have questions about starting an LLC in Idaho.
Getting an LLC in Idaho or any other state involves a lot of paperwork. But you do not have to even fill out the paperwork. Instead, you can leave that to the professionals at our company. We won't rest until the state of Idaho approves your application. So, what are you waiting for? You can open an LLC in Idaho today using the order form on this web page. Or, you're welcome to call us and place a customized LLC registration order. Our experts look forward to helping you build the business of your dreams. What services do we provide?
We Can Start with you LLC registration in Idaho Today
Our organization is ready to provide you with an official LLC formation in Idaho. We're standing by to file LLC notary after notary with the Secretary of State. This way, we can get your business up and running without any delays. Our patented registration process is not limited to any type of company. Instead, we make a statement by providing Idaho registration to anyone in the US. Plus, our organization can provide training services to new business owners. Are you ready to start a new chapter in your life by owning a business in Idaho? If so, LegalRegistration.com is here to assist.
Feel free to call us at any time if you need more information about how LLC registration works.
From the election of a registered agent to notary training or limited liability tips. We're here to assist you and your new Idaho business at any moment. Our experts can even send you a PDF statement of notary training tips. Also, we can fill out your application for any type of legal entity in Idaho. We've filed registration statement after registration statement over the years. That experience gives us the knowledge to help you get your LLC started today.
Whether you need domestic or foreigner registration of an LLC, you can count on us. Please give us a call right now and tell us what you envision for your new business. Within minutes, we can assess your information and begin getting you registered. Our team cannot wait to provide you with crucial LLC information to help you succeed.
The Basics of Having an Assumed Business Name
Did you know that there's no need for you to use the official legal name of an LLC? This refers to a name that will get registered through a Certificate of Organization. Instead, you can use almost any business named you'd like in the real world. This process refers to using a fictitious business name/assumed business name. Also, you can register a trade name or DBA: doing business as.
Our organization can help you register an assumed business name in Idaho. The registration process takes place through the ID Secretary of State. We'll get you registered through the filing of a specific state document. It's called the Certificate of Assumed Business Name. The registration can take place online or through postal mail. The state of Idaho will charge a filing fee to activate registration. Please contact us for more information about registering a business name.
There's no reason to put off forming an LLC. It doesn't matter if this is your first time starting a business. Or even if you've worked as a sole proprietor for many years. Having an LLC benefits any type of person in the state of Idaho. The main benefit of an LLC is that it can limit the personal liability of a business owner. This relates to the notion of both business debts and lawsuits. You can protect your personal money by keeping it out of your business with an LLC. Plus, having an LLC can also provide your company with some taxation relief. Feel free to contact us to learn more benefits about operating an LLC.
We Can Help You Secure an LLC Name
Without question, it's confusing to figure out if a potential LLC name has availability. But this is an important first step in the LLC formation process. You cannot register a name that the state government already has on file. This is where the LegalRegistration.com team comes into play.
We can work one-on-one with the Idaho State Secretary to register an LLC name. Plus, our experts can conduct a name search over the phone on your behalf. As a result, you can find out if your proposed name has availability. If it does, we can register the name as a limited liability company right away. Please call us now to begin the LLC name registration process.
Do Not Put Off Drafting an Operating Agreement
No LLC in the United States should start operating until it has an operating agreement. There are no exceptions. Sure, the state of Idaho does not enforce the creation of operating agreements. But legal advisors across the nation have their own agreement in place. It's that every limited liability company needs an agreement. Without having one, you'd take a big-time risk by opening the doors of your business. What types of lawyers are in the Lawyer Zone network?
So, why are operating agreements so important? The main reason is due to the protection of legal limited liability status. That status prevents all sorts of financial and managerial mishaps. Instead of a misunderstanding, your business can enjoy full-scale legal protection. Plus, the owner of each LLC can govern his or her business with specific rules. Otherwise, the state of Idaho has the right to impose its own rules on an LLC. Feel free to contact us right now about drafting an operating agreement. Our experts have drafted thousands of unique LLC agreements. They're prepared to provide you with an agreement that protects your business interests.
Dissolve Your LLC in the Future Through Our LLC Dissolution Services
Say that someday you decide that you want to shut down your LLC and get rid of it. That's no problem at all. LegalRegistration.com provides full-scale dissolution services for LLCs. We can dissolve any LLC in no time through patented filing techniques.
Once we dissolve your business, your liability will become very limited. That liability applies to potential lawsuits and state/federal government fees. So, if you ever reach the point of dissolution at your LLC, please give us a call. We're standing by to dissolve your business so that you can move on with your life.
Get a Business License in Idaho
"Should I get a business license in Idaho?" It's a common question that our organization receives from clients. In most cases, the answer is yes. Why? Because tons of cities in Idaho enforce businesses to secure licenses. You can call us right now to find out if you or your LLC needs a license.
Our company can contact the local city clerk's office on your behalf at any moment. Or, say that your business location is outside city limits. We can communicate with the county clerk or recorder's office. Keep the following Idaho state registration policy in mind. You must first get your business registered with the Idaho Secretary of State. Only then can you apply to secure a business license.
Say you're unsure if your company must have an Idaho business license. You're not alone. Our team has assisted thousands of small business owners in the same predicament. We can use the State of Idaho Business Wizard to supply you with crucial information. This way, you can know which state-wide business or occupational license you need. Our experts won't rest until you have the licenses for doing business in Idaho. What Is an EIN Code?
Your Idaho LLC Needs Business Insurance
Do not forget to set up business insurance policies at your LLC in Idaho. Having business insurance matters. You can use it to manage all sorts of potential risks. Then, you can sit back and grow your business without having to worry. First, we recommend that you set up general liability insurance at your LLC. It is one of the most common types of business insurance. This form of insurance always functions as a broad insurance policy. It aims to protect a business from many different types of lawsuits. That's why so many small businesses secure general liability insurance.
Your LLC should also set up a professional liability insurance policy.
This is the go-to type of policy for many different forms of US service providers. From consultants to accountants to any other form of provider. The policy will cover claims related to business errors and malpractice. Without question, this is one of the first insurance policies that a provider should have. How to get Business Licensing.
There is also workers' compensation insurance.
This form of insurance can provide coverage for your LLC to assist employees. In fact, the insurance focuses on employee injuries, deaths, and illnesses. In Idaho, any business with at least one employee must have this type of insurance. Keep in mind that an LLC corporate officer and member each count as an employee. Please contact us now for more information about how business insurance works. Our experts can review Idaho state regulations about insurance with you on the phone.
Do You Need Help with LLC Registration in Idaho? Call Us Today
If you need help getting an LLC registration in idaho, please call us at any moment. Our experts are standing by to provide information that can help you succeed. When doing so, we'll go over all crucial Idaho State Secretary policies. This way, we can help ensure that your business follows the law. Plus, our organization can help your LLC stay in compliance with the government. We look forward to serving as a go-to resource of your LLC for business registration.
None
None