LLC in NC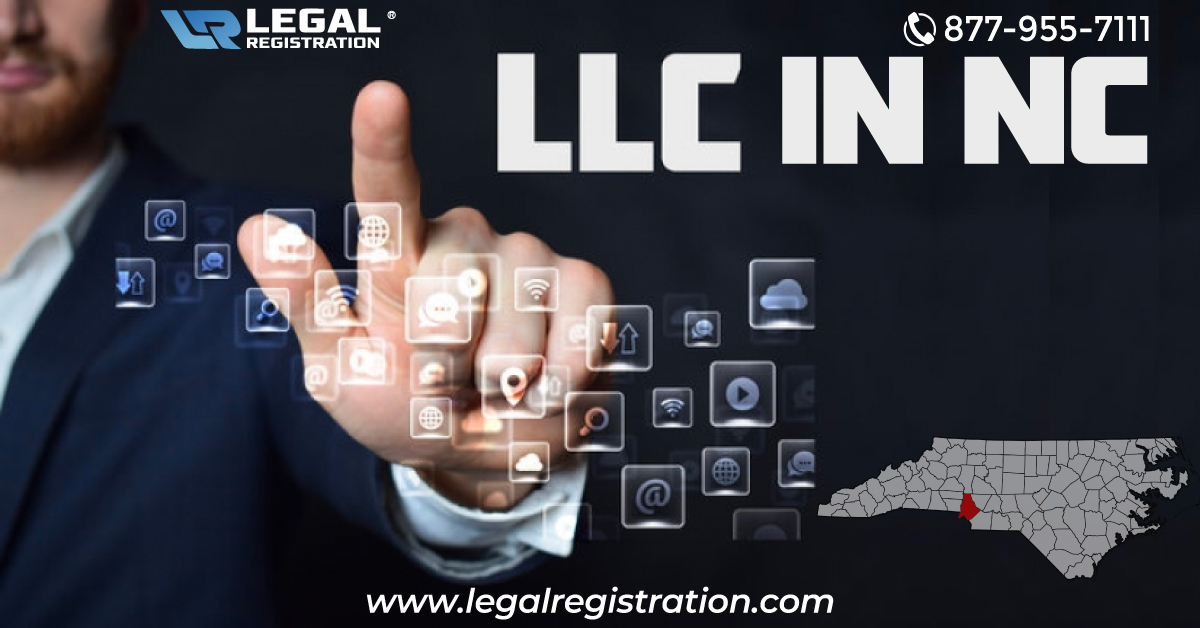 Form an LLC in North Carolina
Do you need to Form an LLC in North Carolina? If so, the LegalRegistration.com is standing by to assist. We provide full-scale limited liability company services. From LLC formation to serving as a trusted North Carolina registered agent. Feel free to order your LLC formation right here on our website. Or, you can pick up the phone and give us a call right now. Either way, our organization is here to help you get your business off the ground.
Our Limited Liability Company Services Are Here for You
The Legal Registration team excels at every type of limited liability company service. We can begin by helping you create your LLC organizational documents. The key is to file your articles of organization with complete compliance in mind. When doing so, we'll adhere to the North Carolina Limited Liability Company Act. But that's not all we can do. Our team can also help you set up the management of your LLC. After all, each limited liability company gets managed by its own members. Then, liability for each member gets limited. Those limitations exist based on specific capital contributions. Please keep the tax characteristics of your new LLC in mind.
Limited liability companies never get taxed based on income. Instead, each LLC member gets taxed. A member tax becomes based on income that a limited liability company brings in. The only exception is when there's an election for corporation taxation. Keep in mind that termination of an LLC can take place. An LLC can dissolve based on many different scenarios. Here is an example. Your NC LLC could get dissolved when a member dies or withdraws from the LLC. Your LLC written agreement and articles of organization will assist you. want to know How To Start Your Own Business? These documents have to feature terms related to the dissolution of LLCs. Remember, or organization can help you complete all limited liability company forms.
We Can Provide You With a North Carolina Registered Agent Service
Our North Carolina registered agent service is standing by to assist you today. Having a professional registered agent service at your side in North Carolina matters. It is a cost-effective way to take care of all your government filings. This way, you can protect your North Carolina LLC at all costs. Legal Registration also provides agent services for hundreds of NC LLC companies. Contact us now to learn about the advantages of using our professional service. With ultra-low annual costs, your North Carolina company can save money.
How Long Will It Take To Form an LLC in North Carolina?
The average timespan to Form an LLC in North Carolina is very short. The longest process is the filing of LLC articles of organization. That filing can take up to two weeks. But the duration depends on how busy the North Carolina state government is. Here is some good news. In most cases, our organization can speed up the filing of articles of organization. We will charge a small fee when expediting the articles of organization for any LLC.
What Are the Differences Between Foreign LLCs & Domestic LLCs?
Here is what a domestic LLC is. It is an LLC that only conducts business within the state where the LLC originated. In most cases, the term "LLC" refers to a standard, domestic LLC. visit & know How Long Does It Take To Get an LLC? Now, here is what a foreign LLC is. A company forms a foreign LLC when it wants to expand business within a separate state.
Should I File an Operating Agreement Through the State?
No. Every operating agreement of an LLC functions as an internal document in a business. This means that you must hold onto your LLC operating agreement for future reference. You can file the agreement at your company. But keep in mind that almost every LLC has an operating agreement in place. In fact, many states enforce companies to create operating agreements.
Form your LLC in North Carolina Today: 5 Steps
Our organization is ready to walk you through the process of starting an LLC in North Carolina. Keep in mind that we can take care of all the registration steps below for you. This way, you won't get stuck filling out mountains of confusing state paperwork. Say that you want to Form an LLC in North Carolina today. You must file your articles of organization. The filing takes place through the North Carolina Secretary of State.
Your articles of organization is a crucial LLC legal document. It will establish your North Carolina business as a limited liability company. Consider following the LLC formation steps below.
Step 1: Pick a Name for Your NC LLC
The first step toward having an LLC is to pick a company name. Sure, this LLC formation step is simple. But it is very important. You cannot start an LLC within North Carolina until a unique name gets registered. The key is to select an LLC name that adheres to North Carolina naming regulations. Plus, try to think of a name that your potential customers can discover with ease. Let's now go vote the most important LLC naming guidelines in North Carolina.
The name has to feature the phrase "limited liability company." Or, you can use these abbreviations: LLC or L.L.C. Do not include any words that could confuse a government agency with the LLC. For example, avoid words like State Department and FBI. The North Carolina State government also has a list of restricted words. These are words that can lead to you having to fill our extra paperwork. Common NC restricted words include university, bank, and attorney.
Of course, the LLC name must get distinguished from other limited liability companies. Plus, all other NC corporations, NC limited partnerships, and NC limited liability partnerships. Please contact our organization if you need a full list of North Carolina naming rules. We can also provide the exact North Carolina Secretary of State guidelines.
Step 2: Find Your North Carolina Registered Agent
The North Carolina State government is clear. Your North Carolina LLC must nominate a specific registered agent. But wait- what is a registered agent? This agent functions as a business entity or individual. That person becomes responsible for securing crucial tax forms. Plus, the registered agent also receives each notice of lawsuit or legal document. Think of a registered agent like this. The agent takes care of all NC government correspondence for an LLC. Every registered agent serves as a state's person of contact for a business/LLC.
So, who can serve as a registered agent for an NC limited liability company? First, the agent has to function as an official resident of North Carolina. Or, the agent can also function as a corporation. Legal Registration operates as a registered agent corporation in North Carolina.) Your agent must have authorization for conducting business in the state. know How To Start Your Own Roofing Business? You have the power to elect any registered agent that you please. Do you need more information about what a registered agent is? If so, please browse our website. Or, you can give our LLC filing service a phone call at any time.
Step 3: Register the Articles of Organization of Your LLC
Are you ready to get your North Carolina LLC registered? If so, it's now time to file Form L-01 – Articles of Organization. Your filing will take place through the NC Secretary of State. This is a common LLC filing that our organization takes care of. Before you file the articles, you must figure out the following common question. Will your LLC become manager-managed or member-managed?
Please contact us now if you need help making a decision about your LLC members/managers.
Now, say that you're expanding your current, active LLC. In other words, you want to start doing business in North Carolina. This means that you must form a Foreign LLC. Please browse our website to discover our full-scale foreign LLC services.
Step 4: Establish Your Limited Liability Company Operating Agreement
It's now time to draft a quality North Carolina LLC Operating Agreement. Note that the North Carolina State government does not enforce operating agreements. This means that your NC LLC will not need to have an operating agreement in place. But wait. Do not skip this step. Why? Because every legal expert in North Carolina recommends having an agreement. So, what are LLC operating agreements?
Each agreement functions as a crucial legal document. The documents outline LLC operating procedures. An operating agreement also lists every LLC ownership procedure. You might wonder why having an operating agreement is so important. It's because an agreement helps business owners stay on the same page. This way, each LLC owner does not have to risk getting involved in a big-time conflict.
Step 5: Secure Your EIN Number
You're now almost ready for your LLC to function as an official business. But first, it's time to get an EIN for your North Carolina LLC. Here is what "EIN" means. It refers to the Employer Identification Number. The IRS (Internal Revenue Service) supplies businesses with every EIN. Every EIN is a nine-digit number. The purpose of the number is to recognize businesses come tax season. An EIN functions as the Social Security Number of a business. Have you ever heard the term "Employer Identification Number (FEIN)?"
What about "Federal Tax Identification Number (FTIN)?" Both of these terms refer to any standard EIN that company or business has. You might wonder why an LLC needs an EIN. Well, you cannot open our business bank account without an EIN. You also need an EIN to manage or file US federal and state taxes with the IRS. visit & check the LLC Registration Form. Plus, you cannot even hire an employee unless you have an EIN. Now, say that you have an EIN within a sole proprietorship. Your sole proprietorship has to get a new EIN number. Otherwise, the IRS will not cover your proprietorship into an LLC. Please contact our organization to get an EIN right away.
Our NC LLC Services Go the Extra Mile
If you need to Form an LLC in North Carolina, LegalRegistration.com can provide it with ease. We're the number one North Carolina LLC service in the United States. Other third-party LLC North Carolina companies go through the motions. But not us. Instead, our NC LLC division got the extra mile every day.
Sure, we can tell you how to Form an LLC in North Carolina. Or, we can inform you how to get an LLC in NC. But there's so much more our organization can do for you. We provide every type of LLC NC service and registration in the state. Please give us a call right now if there's a specific LLC service that you need. We won't rest until your North Carolina LLC gets up and running.
How Can I Secure an EIN Without an SSN: Social Security Number?
Say that you do not want to use a Social Security Number (SSN) to get an EIN. Well, here is some good news. The IRS does not enforce that you must provide an SSN to receive an EIN number. Instead, all you've got to do is fill out IRS Form SS-4. When you do, make sure that you section 7b blank. In most cases, you will have to call the IRS to get your application completed.
The Tax Structure Options of North Carolina LLCs
Let's say that your LLC and business receives an EIN through the IRS. Next, the IRS will inform you of unique tax classification options to choose from. In most cases, an LLC will elect a default tax status. But some LLCs decide to opt for a different federal tax obligation. When doing so, the LLCs select the S corporation (S corp) status. Do you want to learn the basic differences between an LLC and S Corp? If so, please browse our website for more information or give us a phone call.
Does My EIN Need To Secure an EIN?
In most cases, yes, Almost every LLC has to have an active EIN number with the IRS. This notion applies to any LLC featuring more than one member. Or, any LLC that has more than one employee. Remember, this is an official federal government policy of the IRS. Please browse our website to discover the help you need for getting an EIN. We also provide an LLC guide on our website featuring crucial EIN/IRS information.
Remember To Open a Business Checking Account
Every NC LLC business owner should create a business checking account. This way, an owner can separate company assets away from personal assets. want to know What services do we provide? That is the basis of LLC personal asset protection. Plus, doing so will make the tax filing and accounting process easy for your LLC. Say that you help getting an EIN for a bank application. Please give us a call right now and one of our LLC experts can assist.
The Basics of Securing a Business Credit Card
Most LLCs benefit through getting a business credit card. Having the business credit card will help out your company in many ways. First, you can separate all business expenses and place them into specific categories. Doing so is ideal for end-of-year IRS tax purposes. Plus, having the credit card will help your business improve its credit score. This is crucial when securing a business loan or line of credit from a bank.
Setting up a business credit card can also help an LLC owner track every department expense.
The key for doing so is to issue more than one card for company employees. Do you want more information about business credit cards and their many benefits? If so, please contact the Legal Registration team. We can even provide a review of the greatest small business credit cards. Also, we can give your LLC information about protecting the corporate veil.
Don't Forget To Hire a Business Accountant
Hiring a business accountant is a key action to take for any LLC business owner. Why? Well, there are many reasons. First, a business accountant can stop a company from having to overpay on its taxes. This way, your business can avoid fines, penalties, and expensive tax errors. A business accountant will also make your payroll and bookkeeping process easy. As a result, you can spend more time growing your NC company.
Business accountants also excel at managing business funding.
The accountant can help you discover new areas of either profit or loss. know Do I Need a Lawyer To Start an LLC? Do you want to receive access to state-of-the-art business accounting tools? If so, please read our business accounting software guide on our website.
Your North Carolina LLC Must Get Business Insurance
Having business insurance is crucial to Form an LLC in North Carolina. So, how does business insurance assist a company? It helps an LLC manage its risks. As a result, you can focus on taking your NC business to the next level. There are three common types of insurance that businesses get. First, there is general liability insurance. This insurance functions as a broad insurance policy. The main purpose is to protect every business from lawsuits. The majority of small NC businesses have general liability insurance.
The next common type of business insurance is professional liability insurance. This form of business insurance is often for professional service providers. These include consultants and accountants. Liability insurance covers business errors including malpractice. There is also workers' compensation insurance for an LLC. This insurance covers employees. It protects each LLC employee in the event of an illness, injury, or death. There's a state law affecting North Carolina businesses with at least three employees. Each NC business has to have workers' compensation insurance.
Begin Creating a Business Website
Chances are, you're ready to make your NC business appear legitimate. One step for doing so is to create a business website. In fact, every company in North Carolina or the US needs a good website. know who must have a Business License his applies even if your business is very small or you work in an offline industry. Say that your LLC company will not have a website. You could then miss out on receiving a big-time percentage of potential customers. As a result, your NC LLC would not make as much revenue as you envision.
Do not despair if you do not have any website-building experience.
There are many services that can help you create a strong company website. In fact, web building technology has advanced in the last few years. That advancement has helped many NC small business owners succeed.
Do you intend to use social media accounts like LinkedIn and Facebook for a business?
If so, that's great. But even then, you still need an official business website. Otherwise, you will have trouble reaching potential clients and customers. Please contact us now if you need help discovering a cost-effective website builder.
Should My NC LLC Get Business Permits & Licenses?
Are you ready to Form and operate an LLC in North Carolina? If so, the LLC has to adhere to every state, local, and federal government regulation. Here is an example. Say that your LLC is a restaurant. This means your business must get building permits and health permits. Plus, your NC company also has to secure signage permits and other government permits. The specifics of a business permit and license will vary state to state. So, make sure that you read about business permits and licenses in detail.
If you have questions, you can call our organization or browse our website.
The fees for business permits and licenses also vary. Also, please email us if you need a North Carolina Business License guide. We can also provide a US Small Business Administration (SBA) guide. The SBA guide is perfect for accessing information about federal LLC registration. Our team can also supply you with North Carolina business development guides. These guides can feature local permit and license information at the NC county level.
North Carolina Sales Tax Policies
Does your Carolina business and LLC plan on selling at least one physical product? If so, the LLC has to register an official seller's permit with the state. Registration takes place through the North Carolina Department of Revenue website. Having a seller's permit certificate for your LLC matters. know How to Avoid Using Your Home Address for Your LLC? It positions any NC business to collect sales tax related to taxable sales.
Have you heard of the term "Sales and Use Tax?" That term refers to standard sales tax. It's a tax that gets applied by both states and counties in North Carolina. The state tax focuses on almost any form of business transaction. Please contact us if your NC company needs information about applying sales tax.
NC Employer Taxes
Say that you intend to have employees working for you in North Carolina. That means your LLC has to register with the Unemployment Insurance Tax. Registration takes place through the North Carolina Division of Employment Security. Plus, your LLC must sign up for an Employee Withholding Tax. That tax functions as an official North Carolina Department of Revenue policy.
Federal LLC Tax Filing Rules & Regulations
Almost every LLC in North Carolina must report its income to the IRS every year. When doing so, use Form 1065 Partnership Return. The majority of multi-member LLCs have to complete this form. Your LLC could also provide a Form 1040 Schedule C to the IRS. Almost every single-member LLC completes this form. The amount an LLC owner pays for federal taxes depends on how an owner gets paid. Please browse our website to learn how to pay yourself through your LLC.
How To Hire Employees at Your NC LLC
Chances are, you plan on hiring employees to work at your North Carolina LLC. This means your LLC has to stay compliant with the law. Here is how to do that. First, make sure that each new employee has authorization to work in the US. Then, you can report your employees as new hires to the state of North Carolina. It's now time to give workers' compensation insurance to every employee. Make sure that you withhold employee taxes on a consistent basis.
We recommend that you print compliance posters at your NC business.
Then, you can place the posters inside your company. Do you need more information about North Carolina Department of Labor policies? If so, please give our LLC registration experts a phone call today.
Our Team's Ready To Fill Out & File Your LLC Legal Forms
The LegalRegistration.com team is standing by to complete and file all LLC legal forms. We can do it all. From completing LLC operating agreements to filing LLC resolutions. Our experts can even help you set up official business hiring documents. These include employment contracts and ICSA forms. ICSA refers to independent contractor service agreements. We can even draft custom NDA (non-disclosure agreements) on your behalf. Please browse our website to download basic LLC forms and templates. This way, you can get your NC business up and running right away.
We Can Help Dissolve Your LLC in North Carolina
Say that you decide you no longer want to conduct business at your North Carolina LLC. That means it's time to dissolve the business in an official manner. Dissolving an LLC must take place without any delays. Otherwise, your company could experience tax penalties and liabilities.
Even severe legal trouble could take place if you fail to dissolve your LLC. Well, do not worry about LLC dissolution. Our experts are ready to help you dissolve your NC LLC. want to know How to Get a Virtual Business Address. We will begin by helping you close your LLC and business tax accounts. Then, we can assist you in filing North Carolina Articles of Dissolution. Please let us know if you need access to our LLC Dissolution Guide.
Questions About Forming an LLC in North Carolina? Contact Us Today
Feel free to give our company a phone call if you have any questions about forming LLCs. Or, you can send off an email or even message our team on this website. We're ready to answer all your questions and help you discover solutions. This way, you can begin making money as a North Carolina business ASAP. We look forward to serving as the go-to registration resource for your NC company.