Roofing Contractor Company Licensing
Construction license
.
March 17, 2023, 11:40 a.m.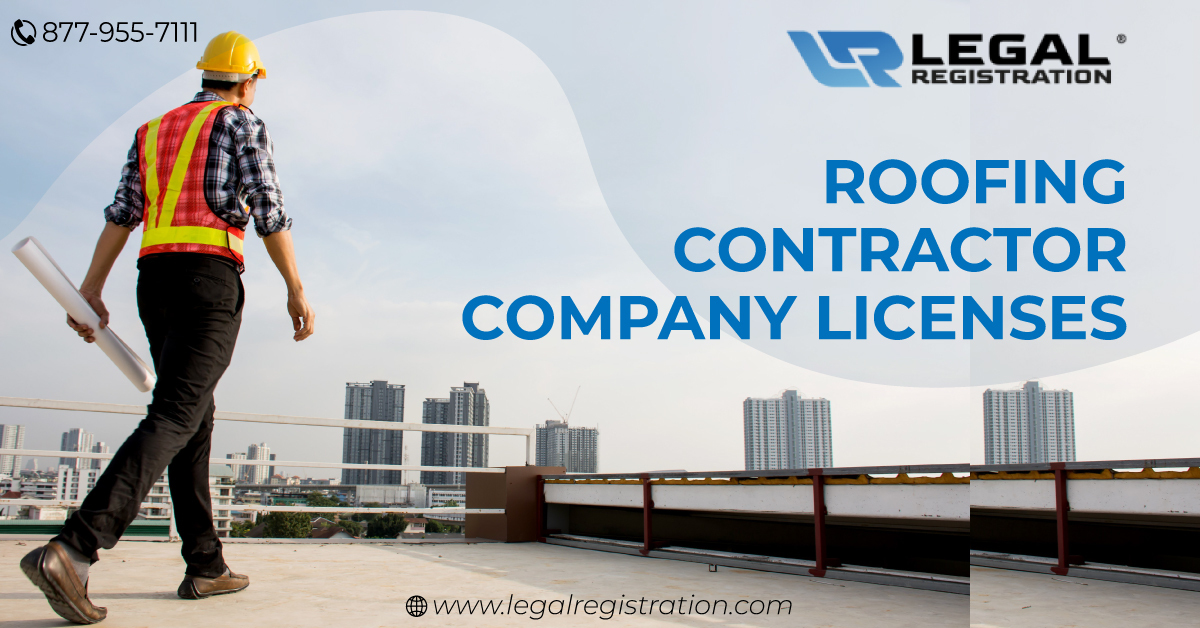 Roofing Contractor Company Licensing
This article provides an overview of the licensing requirements for starting a roofing contractor company. It covers the steps involved in obtaining a license, such as registering your business, acquiring necessary insurance, and completing the required training and exams. It also discusses ongoing requirements such as continuing education credits and license renewals. How To Start Your Own Roofing Business.
What Is a Roofing Contractor License?
A roofing contractor license is an official certification issued by the state that permits an individual or company to perform roofing work. Typically, a roofing license is required in addition to a general contractor's license if the contractor intends to work on other areas of a building aside from the roof. Obtaining a roofing license is important not only for compliance with state regulations but also as a means of demonstrating expertise and specialization in the roofing industry to potential customers. Apply for Permits & Licenses Through LegalRegistration.com
The process of obtaining a roofing contractor license varies from state to state, with requirements differing based on factors such as experience, education, and insurance coverage. Generally, applicants will need to submit an application fee and demonstrate that they have met certain minimum requirements, such as having a certain amount of work experience or passing an exam.
It is important for roofing contractors to ensure that their license is up to date and renewed as required by the state. Failure to renew a roofing license on time can result in penalties and fines, as well as potential damage to the contractor's reputation and business. Furthermore, maintaining a valid license can also provide certain legal protections to the contractor in case of disputes or legal issues arising from their work. Who Must Have a Business License?
In summary, obtaining and maintaining a roofing contractor license is a crucial step for professionals in the roofing industry. It not only ensures compliance with state regulations but also signals expertise and specialization to potential clients. How To Start Your Own Business.
Who Needs a Roofing Contractor License?
The requirements for obtaining a roofing contractor license vary by state. In some states, such company licenses are not required, while in others, roofing contractors must pass a rigorous test and meet specific safety standards. Some states have separate company licenses for residential and commercial roofing projects. Renewals are typically required annually, and failure to do so can result in penalties and fines. Sole Proprietorship
It is important to note that having a roofing contractor license not only ensures compliance with state regulations but also serves as an indication of expertise in the field to potential clients.
Managing the licensing process can be complex, but with the help of Legal Registration, business owners can receive expert guidance and support. Our licensing services offer comprehensive assistance throughout the entire compliance process, including filing applications, communicating with government agencies, and tracking registration status and renewals through our software platform. This allows roofing contractors to focus on their core business activities while remaining fully compliant with state regulations. How Long Does It Take To Get an LLC?
How to Obtain a Roofing Contractor Company Licenses
Acquiring a roofing contractor company license involves a detailed process, but it can be made more manageable by breaking it down into several steps. The first step is to establish your company's name and business structure, followed by registration of your company in the state you intend to operate. You will also need to appoint a registered agent to receive legal notices on behalf of your business. Do I Need a Lawyer To Start an LLC?
Once you have completed the general business registration, the next step is to focus on obtaining company licenses to work on roofing projects. The duration of the process varies depending on the state requirements and the documentation you have prepared beforehand. These include your education and training credentials, as well as your company's insurance policy. Plumbing contractors license?
If you encounter difficulties with the licensing process, Legal Registration's specialists can provide professional assistance. Their expertise can help ensure that the licensing process is as smooth and efficient as possible, so you can focus on growing your business, hiring employees, and bidding for new contracts. Don't let licensing concerns get in the way of your business's success - reach out to Legal Registration today for guidance. How Long Does It Take To Get an LLC?
Training and Experience
When it comes to obtaining a roofing contractor license, experience in the industry is usually a prerequisite. This experience can be gained through working as a journeyman or foreman on a crew. However, the specific requirements vary depending on the state in which you plan to operate. Contact Us Now To Get a DC Registered Agent
In addition to experience, some states require applicants to complete training courses. The nature and extent of these courses can vary, and they may be offered in-person or online. Course topics commonly cover various aspects of roofing, such as thermoplastic polyolefins (TPO), polyvinyl chloride (PVC), repair procedures, and safety protocols. Also check the LLC Registration Form.
It's important to note that licensing requirements can change over time, so it's essential to stay up-to-date with any updates or changes to your state's regulations. If you're unsure about the licensing process or need help navigating the requirements, consider working with a professional licensing service like Legal Registration to ensure you're meeting all of the necessary criteria.
Certification
In addition to industry experience, completing the required training is typically necessary to obtain roofing company licenses. The amount and type of training required varies by state and can be completed in-person or online. These courses typically cover a range of topics including different roofing materials and repair procedures, as well as safety protocols. What services do we provide?
Once an applicant has met the experience and training requirements, they must pass an examination to proceed with the licensing process. The exam assesses the applicant's knowledge and proficiency in the roofing industry, which could include actual construction and repair tasks, as well as questions related to relevant laws and regulations. The examination format and method of testing can vary by state, and it is important to understand your state's specific requirements to ensure you are adequately prepared.
Insurance
Roofing contractor companies must obtain proper insurance coverage to protect their businesses in the event of an accident. Insurance costs vary depending on the state and the size of the company, as well as the services provided and policy limits. In addition to general liability insurance, which covers third-party risks, customer bodily injuries, libel, and other advertising slanders, roofing companies must also obtain workers' compensation insurance, which is required in most states, and covers work-related medical expenses, missed wages, and employee injury lawsuits.
Other insurance options include commercial auto insurance, which covers third-party injuries and property damage caused by roofing company vehicles, legal fees from an auto accident, and vehicle theft and vandalism, and contractor's tools and equipment coverage, which covers the repair or replacement of damaged tools that are less than five years old and have been transported to job sites. It is crucial to keep track of the company's policy, as policies, deductibles, and coverages may change. Additionally, when registering the business, a certificate of insurance from the chosen provider is required.
Continuing Education
In some states, roofing contractors are required to complete continuing education credits to maintain their company license. This is to ensure that they stay updated on new regulations and construction methods. The amount and frequency of required training may vary by state.
It can be challenging to keep track of your business's license renewals, especially as your company grows. However, at Legal Registration, we offer Entity Manager software that simplifies the tracking of due dates and ensures on-time filing. With our software, you can rest assured that your business will remain compliant with state and local requirements while you focus on expanding your clientele and growing your business.
Comment
Leave a Reply
Your email address will not be published. Required fields are marked *