Washington State: Foreign LLC Registration
LLC
.
Sept. 16, 2023, 11:32 a.m.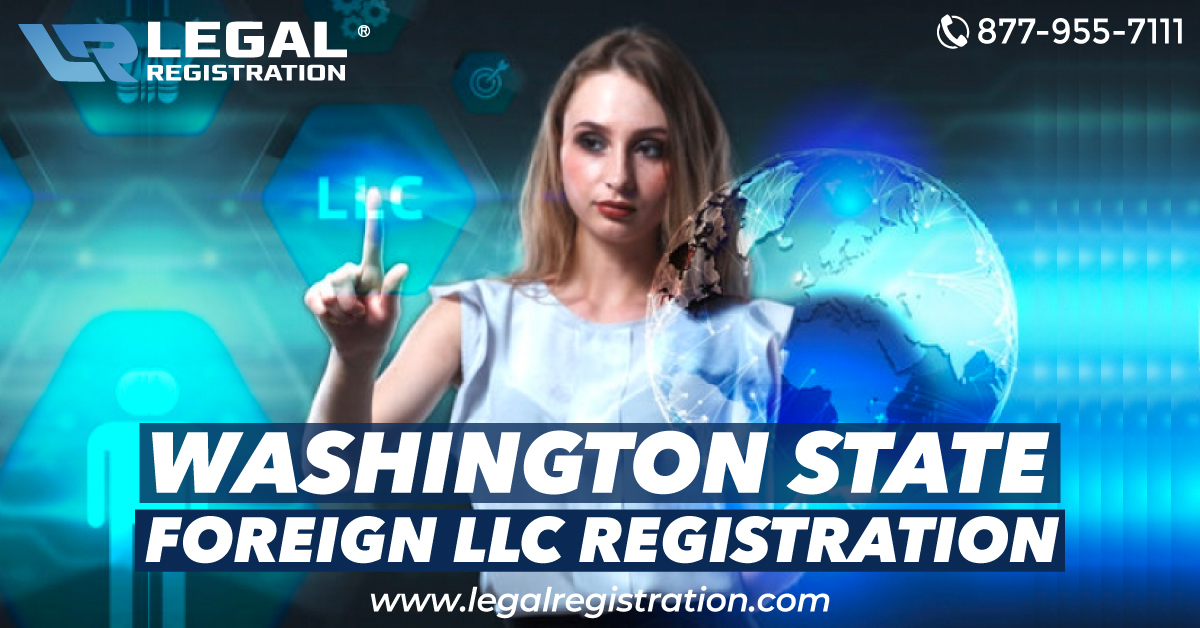 Washington State: Foreign LLC R

egistration
Limited Liability Companies (LLCs) operating in multiple states are a common feature in the American business landscape. It's crucial for these businesses to understand the specific requirements for foreign LLC registration in each state they operate. In this article, we delve into the process and requirements for foreign LLC registration in Washington State.
What is a Foreign LLC?
The term 'foreign' may be a little misleading as it does not refer to entities from outside the United States. Instead, a foreign LLC in this context is an LLC that was initially formed in another state but is now seeking to do business in a new state. In our case, the LLC was formed outside Washington State and is seeking authorization to conduct its operations within the state.
Why Register a Foreign LLC in Washington State?
Before we delve into the process of registration, it's important to clarify why businesses should register their foreign LLCs in Washington State. Know How to Avoid Using Your Home Address for Your LLC. Registration provides the legal permission needed for an LLC to conduct business in the state. It ensures that the company is compliant with the state's laws and regulations, which can prevent future legal issues and penalties. Moreover, it can enhance the company's credibility in the eyes of potential customers, suppliers, and financial institutions within Washington State.
When is a Foreign LLC Required to Register in Washington State?
Understanding when registration is required can be complex, as it hinges on the concept of 'doing business.' Generally, a foreign LLC needs to register in Washington State if it has a significant business presence there. Know How To Start Your Own Roofing Business. This presence could involve having a physical location, employees, or a significant amount of sales in the state. However, the specific criteria may vary, and it's recommended that businesses consult with a legal professional to ascertain their obligations.
What is the Process for Registering a Foreign LLC in Washington State?
The registration process involves several steps that must be carefully followed to ensure compliance with Washington State law.
Step 1: Name Verification
The first step is to ensure the name of your LLC is available for use in Washington State. The name of the foreign LLC must be unique and not in use by any other entity registered in Washington State. If the name is not available, the LLC must adopt a fictitious name for use within the state.
Step 2: Secure the Certificate of Good Standing
A Certificate of Good Standing from the initial state of formation is required. This certificate is evidence that the LLC is legally registered in its home state and has complied with all annual reporting and tax requirements.
Step 3: Appoint a Registered Agent
A foreign LLC must appoint a registered agent in Washington State. The registered agent is a person or a business entity that agrees to receive legal documents and official government communications on behalf of the LLC. Starting a Crystal Business: 13 Simple Steps. The agent must have a physical address in Washington State.
Step 4: Complete the Application for Registration
The foreign LLC must file an Application for Certificate of Authority with the Washington Secretary of State. This application requires essential information about the LLC, such as the LLC's name, date of formation, home state, registered agent details, and the signature of an authorized person.
Step 5: Pay the Filing Fee
The last step in the registration process is to pay the filing fee. As of my knowledge cutoff in September 2021, the fee was $180 for mail submissions and $230 for online submissions, but it's recommended to check the current fees on the Washington Secretary of State's website.
What Happens After Registering a Foreign LLC in Washington State?
Once registered, the foreign LLC must comply with Washington State's ongoing requirements. These requirements include filing an annual report and paying the relevant fees to maintain the LLC's good standing. Contact Us Now To Get a DCRegistered Agent. The LLC may also need to pay state taxes, depending on the nature of its business.
How Can Foreign LLCs Stay Compliant in Washington State?
Compliance is crucial for any business, and it's no different for foreign LLCs operating in Washington State. To stay compliant, foreign LLCs should adhere to all state laws and regulations, ensure that all taxes are paid on time, and file the annual report promptly. They should also maintain a registered agent in Washington State at all times.
The Role of Legal Advisors in Registering a Foreign LLC in Washington State
Navigating the process of registering a foreign LLC in Washington State can be challenging, especially for business owners new to the state's regulatory environment. Legal advisors can provide invaluable assistance during this process. Do you know What Is the Difference Between Tax ID and EIN? They help businesses understand the state's laws, ensure all documentation is correctly completed, and provide advice on maintaining compliance after registration.
Potential Challenges of Registering a Foreign LLC in Washington State
Despite the structured process in place, businesses may encounter several challenges during the registration of their foreign LLC in Washington State. One common challenge is ensuring that all the required documentation is completed accurately and on time.
Errors in documentation can lead to delays or even rejection of the registration. Another challenge is understanding and adhering to Washington State's laws and regulations, which may differ significantly from those in the LLC's home state. Visit & know more about LegalRegistration.com. This is particularly true for businesses operating in heavily regulated industries.
Mitigating Potential Risks When Registering a Foreign LLC
To mitigate these risks, businesses are advised to carefully review all documents for accuracy and completeness before submission. Additionally, seeking professional legal and financial advice can help businesses navigate regulatory complexity and maintain compliance.
How Can a Foreign LLC Benefit from Operating in Washington State?
Having explored the process and potential challenges, let's now delve into the potential benefits a foreign LLC can derive from operating in Washington State. VisitHow Long Does It Take To Get an LLC? The state has a robust and diverse economy with numerous opportunities for growth and expansion. Its strategic geographical location, coupled with a well-developed infrastructure, makes it an attractive destination for businesses.
Moreover, Washington State is home to several major corporations, providing ample networking and partnership opportunities for newly registered foreign LLCs. Its strong labor market also ensures that businesses can recruit from a pool of highly skilled workers.
Understanding the Role of the Registered Agent in Washington State
The presence of a registered agent is of utmost importance in upholding the legal existence of an LLC in Washington State. Their role involves serving as the intermediary between the state and the LLC, guaranteeing the timely delivery of essential legal and tax papers. A registered agent can be an individual who resides within the state or a business entity that possesses the authorization to conduct operations in Washington State.
Ensuring Ongoing Compliance for Foreign LLCs in Washington State
Once a foreign LLC is successfully registered, the next critical aspect to consider is maintaining ongoing compliance. Want to know What services do we provide? The state of Washington requires all LLCs, domestic and foreign, to adhere to certain annual obligations. Failure to do so can lead to penalties and could jeopardize the LLC's standing with the Washington Secretary of State.
The primary requirement for ongoing compliance is the annual report. Every LLC registered in Washington must submit this report, detailing key aspects of the business. These aspects include information about the LLC's management, its registered agent, and changes to the business operations, if any. The report keeps the state updated about the LLC's activities and ensures that the public record remains accurate.
Moreover, depending on the nature of its business and income, a foreign LLC might also be subject to various state taxes. It is important to understand these obligations and comply with them to maintain good standing in the state.
Why Maintaining Good Standing is Vital for Foreign LLCs
Maintaining good standing is essential for foreign LLCs for several reasons. Firstly, it allows the LLC to continue operating legally within Washington State. If an LLC fails to comply with the state's requirements, it could face penalties, suspension, or even cancellation of its authority to do business within the state.
Secondly, maintaining good standing can affect an LLC's reputation. Compliance with state requirements demonstrates to clients, suppliers, and financial institutions that the LLC is reliable and conducts its business operations responsibly.
Lastly, good standing is often a prerequisite when an LLC needs to access financial services. Banks, lenders, and other financial institutions typically require proof of good standing when an LLC applies for a loan or other financial products.
The Role of Legal and Financial Professionals in Maintaining Compliance
Given the significance of maintaining compliance, many foreign LLCs opt to seek assistance from legal and financial professionals. Do I Need a Lawyer To Start an LLC? These professionals can help the LLC understand its ongoing obligations and ensure that all compliance requirements are met promptly.
Legal professionals can provide advice on regulatory changes and help the LLC navigate legal complexities, while financial professionals can help manage tax obligations and provide advice on financial compliance.
Final Thoughts
Registering a foreign LLC in Washington State can open up a myriad of opportunities for businesses looking to expand their operations and reach. Want to know How To Start Your Own Business? Despite the challenges that can come with navigating the registration process and maintaining ongoing compliance, the potential rewards make it an attractive prospect.
With a clear understanding of the requirements and process, along with the support of professional advice, foreign LLCs can successfully establish themselves in Washington State and contribute positively to its vibrant and dynamic business environment. Through careful planning and execution, businesses can ensure their foreign LLC registration is a stepping stone to success in the Pacific Northwest.
Comment
Leave a Reply
Your email address will not be published. Required fields are marked *